'All-Star Celebrity Apprentice' – How To Fire A Winner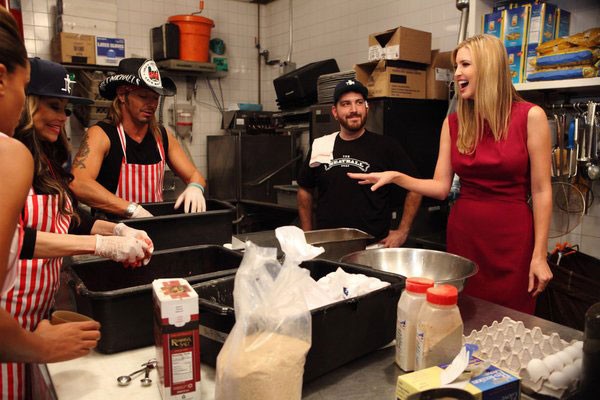 Before they even leave for their shops, the Celebs are working their phones, begging for donations. Bret already feels like Omarosa is gunning for him, and LaToya can't understand why Omarosa was even included in the team. "She is NOT a star," says the least well-known of the Jackson family. "She is evil, malicious and mean."
Trace's team talks of meatball recipes, but he doesn't think that will matter. He doesn't even think they should open their shop to the public. They should just focus on bringing in big checks. "I don't care if you taste my meatball and throw up," he says. Just to be on the safe side, Lisa calls husband Harry Hamelin for his famous meatball recipe.
Marilu wonders if they should have "naked" balls on the menu, while Lisa assures the group that they can't lose with Harry's sauce. Aren't we naughty! Trace continues to tell them that they are wasting their time, trying to make something that's really good. The littlest Baldwin disagrees with Trace's strategy.
Brande's having a hard time trying to figure out how to best use Dennis Rodman. He's useless in the kitchen, and clueless on computer graphics. He's ready to be a team player, but feels like he's not wanted. He's finally set to rolling and baking the meatballs. Brande's main priority is calling in her Playboy bunny friends, and seducing billionaires into making big donations. The billionaires seem to be responding positively.
"I've called in all my contacts. Now I'm ready to handle some balls," says Brande, stripping down for action by removing her watch and rings.
Trace puts a big white chef hat over his Stetson. Lisa, Marilu and Penn dive right into their meatball mixtures. Gary finds his rhythm chopping herbs. Stephen and Dee stand back and let Trace do his fundraising thing. Trace is going after the big guns, like supermodel Nikki Taylor,
The next morning, Plan B's Marilu and Penn and Team Power's Bret and Lil Jon visit the set of "Live with Kelly and Michael", to have their balls tested.  Knowing that Kelly Ripa is a vegetarian, Bret and Lil Jon have brought her a vegetarian meatball, in a pesto sauce, drizzled with truffle oil. Kelly is touched and impressed, but Penn thinks his opponents have lost their minds. Shouldn't a meatball contain meat? We'll see, Mr. Smarty Pants…
Marilu showcases their "Naked Balls with Harry Sauce." Penn demonstrates the integrity of the meatballs by juggling them. Kelly tastes their offering as well, but the decision will be reached in Trump's office.
Brande's busy back at the shop, with all the work necessary to open. There are balloons, huge posters of the team, and oh yeah – meatballs to cook. Omarosa takes a minute to think about what a personal triumph it would be for her to take out the only player in the game who is a previous winner. She's picturing Bret's little head mounted over her fireplace. Cowboy hat optional.
When opening time arrives, Team Power is ready and rarin' to go. There's a line-up down the street, and the priority is get those big donations in the till. Brande's happy with what they've received so far, but nervous that her biggest contributor has not been in touch all morning.
Over at Plan B's shop, there's nothing doing. Trace has put up little signs, saying that the place is closed for a private event. Everyone is sitting around, waiting for something to happen. Trace is delighted that no one's there, but Stephen B is carping about the money they've likely lost, that they could have received from walk in customers.
Everyone's antsy, but Busey takes matters into his own hands when he races out into the street, stopping a tour bus, and telling the passengers they need to come in for some charity meatballs. There are no takers, but Trace decides he'll be getting a shock collar for Gary pronto, to keep him in line. Trace explains that they don't want passerby's to come in, and Busey seems to understand. Until he sees some people walk by, and once again runs out onto the sidewalk to tell people to come in to the store.
Singer Amy Grant arrives, with a check for $75 thousand dollars, followed by Valerie Bertinelli and Gilbert Gottfried. Wrestling star Mick Foley has $10,000 for the team, and Nikki Taylor drops a check by as well.
At Team Power, Lil Jon and Bret are back, and ready to rock! Bret's squeezing money out of people, even those who can ill afford the generosity. But he notices that Omarosa, who's handling the money, is cheering for everyone who's bringing in the dollars, except for his donors. She's not even mentioning that they were there.
Piers Morgan arrives at Plan B's store, and Trace offers Busey as Pier's tour guide. Trace knows that Piers will try and distract him from the task, so siccing Busey on him will keep him off balance.
Sure enough, Busey entertains Piers with a lecture on how to make meatballs, and to explain that they have all been working as a team. Any other way would be a sin … that's SIN – self imposed nonsense.  
Piers asks Trace why he's closed the shop to all but high rollers. Trace says the tactic is one he learned by watching Piers. Piers denies it, saying that to his mind, they should have sold every meatball down to the last one. Even five dollars can make a difference at the end.
With 45 minutes remaining in the challenge, Team Power's Brande is panicking. Sure, Paul Teutul Sr. dropped by, on one of his awesome motorcycles, and Jon Rich sent $10,000, but where are her billionaires? When Piers pops by to check on their progress, she tells him they're doing great, and are not likely to run out of meatballs, as they made 5000. Claudia says it was more like 650. That's still a lot of spicy meatballs!
Piers is disdainful of Brande's airy fairy attitude to numbers, even stooping to checking up on that meatball number with LaToya, who says she thinks they made about 1000. Apparently Piers thinks that Brande's appeal to The Donald begins and ends with her ability to count.
Boardroom time! And Mr. Trump wears a shiny red tie to dazzle the teams. He asks Brande and Team Power how they think they've done. Rodman says that Brande was a better project manager than Bret would have been, because she wanted it so much. Brande says they did the best they could. She praises her team for their good work.
Even Dennis? And Bret? Incidentally, Trump is still not through savaging Bret for having the nerve to play the game again, after winning his first time out. Even Ivanka can't believe Bret's confidence.  Piers adds that he himself would not have risked going from champion to loser, as then he would wind up in Omarosa's position, and that's not a place anyone would want to be. 
Bret says he's here for the same reason that he was the first time; to earn for his charity and to have a good time. He's not afraid in the slightest. Omarosa can't stop herself. She tells Trump that she thinks Bret has "perpetrated one of the biggest frauds in the history of this game." He told Brande that he would raise big money, and then didn't.
Brande, the mathematical genius, can't be sure, as Omarosa – the cashier - has no intention of telling anyone who raised what. But Bret was awesome! He had good energy!
LaToya says that Brande begged for the position, on her knees, saying that she could get the most money for the challenge. (Who would have thought that LaToya would be the level headed team member? Not I!) Overall, she didn't think that Brande was a great leader. And no, she doesn't think that their team won.
Trump bangs twice on his desk to wake up the slumbering Trace. Trace thinks they did pretty good, although he doesn't know how much they made. Penn says that Trace was gutsy, focused, brave, inspiring and a blast.  Trump wants to know why they didn't open up their store to the public. Penn says he understood Trace's logic, that the game is set up to bring in the big money donors, not the smaller fish. He tells Ivanka that Trace's move was very bold, and a braver decision than he himself would have made.  
Busey rambles on about Trace's kindness and humility, and masterful handling of the meatballs. Piers and Trump say Gary shouldn't overestimate Trace's kindness. Piers adds that he's never met a more enthusiastic meatball maker and seller than Gary. Piers does ask the team what they'll do to Trace if they lose this challenge by a few dollars, based on Trace's decision not to open the store. He seems to hope they'll turn on Trace, and kill him. Because Piers would.