'All-Star Celebrity Apprentice' – How To Fire A Winner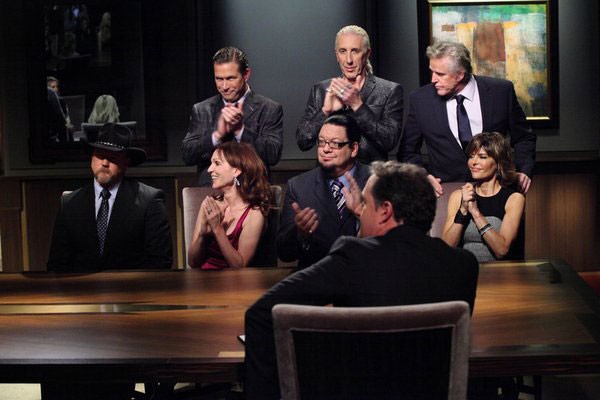 Donald Trump, resplendent in pink shirt and tie, welcomes us back to New York City, and the sixth season of Celebrity shenanigans.  At stake is prize money for the celebrities' charities, and the title of All-Star Celebrity Apprentice.  
We begin at the Metropolitan Museum of Art, where The Donald greets his celebrities. Gary Busey, Stephen Baldwin, LaToya Jackson, Omarosa, Penn Jillette, Lil Jon, Dennis Rodman, Dee Snider, Marilu Henner, Claudia Jordan, Lisa Rinna, Brande Roderick, Bret Michaels, and Trace Adkins are introduced. Bret Michaels, the only player to have ever won Celebrity Apprentice, feels he may have a target on his back. Gary Busey assures us he'll be bringing the crazy, and Omarosa lets us know that this will be a no holds barred, take no prisoners, contest.
"This could be one of the strangest collections of Celebrities in the history of Celebrity Apprentice," The Donald assures us. Well, yeah! I don't even know a few of these people, never mind what makes them a celebrity! But we're given a look at clips of the upcoming weeks that leave us in no doubt – there will be tears, there will be laughter. Look forward to a lot of posturing, much queening of the drama, and possibly aliens returning to the planet in search of Busey. Because, as we know, "when you put Dennis Rodman, a Busey and a Baldwin in the same room … anything can happen."
And so it begins. "I'm here to raise money for severely abused children. So, I'm here to kick some butt," says Brande Roderick, completely unaware that severely abused children everywhere are now hiding their little butts from her dainty feet. Trace Adkins growls that he's never given Trump anything, and he's not gonna start now.  Trump compliments Lisa Rinna's much smaller lips – he approves the change, and tells Bret Michael's that he thinks he's crazy for coming back and risking a loss. Bret takes offense to Trump's admonishments.
Trump throws out random questions to the Celebs, but rarely listens to their answers, and then decides to break them into teams, with Bret and Trace as team leaders. In a 'schoolyard pick,' Bret chooses Omarosa first, in an attempt to "harness evil, villainous energy." He then chooses Lil Jon, Brande, LaToya, and Claudia, with Rodman as the last one picked.
Trace begins with Penn, and then adds Dee, Marilu, Stephen, Lisa, and Busey.  Trump sends the new teams off to their suites in Trump Towers, and tells them to come back to the boardroom when they've chosen a project manager and a team name.
Omarosa freestyles a little rap for Bret's team. Ready? "I'm sittin' in Trump Tower - Tryin' to get a little power - And I am able to get fired - Because I'm tired - Of going in to fight every night in front of Trump." Although Team Oreo is a strong contender, Lil Jon chooses "Team Power" for their moniker. Brande tells Bret she wants to be project manager, claiming she can raise $500 thousand on the first challenge. She gets down on her knees in front of Bret, begging for the chance. He gives her the title, but begs her not to throw him under the bus. "Trust me, " says Brande, "we're not gonna lose."
Gary throws out a number of ludicrous and offensive potential names, but that's what everyone has come to expect from him. Trace's group ignores him, and chooses Plan B, partly in honor of the worst film ever made, "Plan B From Outer Space.' Busey approves, saying it's not only a great name; it's also a birth control device.
Trace challenges Stephen Baldwin's request to be project manager by throwing out the name of a big potential donor. Stephen caves immediately, so Trace will lead the challenge.
In the Boardroom, Trump assures the players that they will be winning big money for their charities. He introduces this challenge's judges; Piers Morgan, as "a past winner who's gone on to really great things," and Ivanka Trump, as his terrific daughter.
Omarosa tells Trump that she thinks her team made the wrong decision going with Brande as project leader, and was surprised that Bret gave in so easily. She then tells Trump how his game works, and has a fight with Piers. Yes, she's just making friends everywhere she goes.
Trace assures Trump that he's his own best player, and Busey says that a star is nothing but a self-contained mass of gas – which could be said about any player on either team, really. Trace and Piers also have a little tiff. Piers won't let Trace forget that he beat him in their previous game.
Meatballs. The Donald loves them, and the Celebs are gonna make them, and sell them. And they're also going to bring their signature meatball to the "Live with Kelly and Michael" show, where their balls will be judged, for additional prize money. The winning team will keep all of the money made, to be donated to their charity.
Omarosa notes that this is her third chance to win or lose. "Is she the biggest loser in the history of the game? "asks Piers. "You're the biggest loser," Omarosa fires back. I'm beginning to see a pattern in the Omarosa/Piers conversation.