'All-Star Celebrity Apprentice': Hello Chess Master, Goodbye Marilu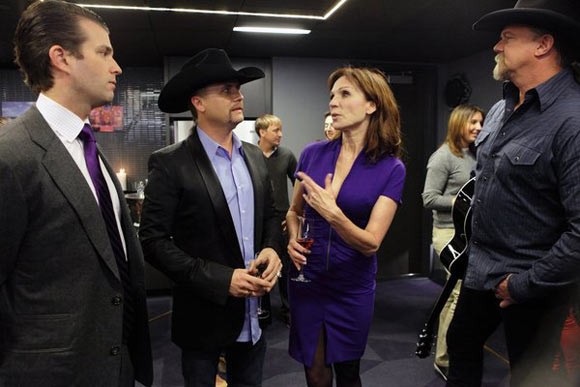 Last week, project manager Gary Busey ran roughshod over Plan B's Lisa Rinna and Penn Jillette, and created his own wacky video for the team's task. The team lost, and despite Gary's claim that Penn and Lisa had worked against him, Gary was fired. Lil Jon's team Power won the challenge and $40,000.00 for his charity, the American Diabetes Association.
This week, the teams meet up with Donald Trump and two executives (Rodney and Scott) representing Foxwoods Resorts. With them are John Rich, winner of 2011's Celebrity Apprentice, and Donald Trump Jr., who will be the teams' advisors. The celebs are told they will transform a suite at Brooklyn's new Barclays Center with furniture, decorations and themes that best represent the Foxwoods brand. They will also host a promotional party for Foxwoods casino, highlighting service and entertainment. The teams' efforts will be judged on creativity, brand messaging and the overall party atmosphere.
Stakes are high on this challenge, as Trump's $50K donation will be matched by Foxwoods, for a total charitable donation of $100K. Plan B's project manager will be Lisa, while Marilu Henner will lead Power.
The teams arrive at their suites. Power's Lil Jon notes that the space they have to work with is tiny. Trace Adkins points out that they can see across the arena, and directly into Plan B's party space.
As Marilu, Trace and Lil Jon brainstorm, the Foxwoods execs arrive. They outline Foxwoods brand, emphasizing that great entertainment is the core of the experience. Foxwoods also has character mascots, based on playing cards; Ace, King, Queen, Jack and Joker. Each team will choose one character, and use that as the basis of their suite. And since the resort is owned by the Mashantucket Pequot tribe, tribal and native symbols are woven throughout their logo and complex.
Marilu likes the idea of using the King character, while Penn seizes upon the Joker. Marilu and Lisa meet to negotiate, but there's no drama. Both teams get what they want.
Lil Jon and Marilu work differently. Marilu wants to concentrate on furnishings first, while Lil Jon thinks getting their entertainment organized is Job One. Trace wonders at Marilu's priorities; he is not sure what exactly they should do, but he's pretty sure she's on the wrong track.
Penn and Lisa are burning up with great ideas. Penn gets David Burke, celebrity chef, for their caterer, and locates a Native American flautist for mood music. Their entertainment will be Lisa Lampanelli, and Penn and Teller. So essentially, their chef and entertainment are all currently employed in some aspect of Foxwoods' empire.
Across the way, Trace couldn't be grumpier. He greets Marilu's idea of hiring a massage therapist with a blunt "no." Marilu shoots down Lil Jon's suggestions. She's grasping at straws, proposing a mandolin player, a mime, or any other entertainment that would be fit for a king.
Marilu's worried about Trace, calling him "a curmudgeon who operates one notch above death." She feels he hasn't been contributing enough over the last few tasks, while she's supported him and the team through every project. As Marilu gets more stressed and tense, Trace calls Marilu "the party planner from hell." Trace and Lil Jon get more outrageous and silly as all of their efforts lead nowhere. Marilu is so frustrated she tells Trace he's turning into Gary. Trace throws himself onto the floor like a two year old having a tantrum.
But Trace is really trying to help. He sends out feelers to try and score Hunter Hayes, winner of the CMA's New Artist of the Year, as their entertainment. Lil Jon organizes a kick drum and a snare to go with a DJ setup, as requested by Marilu.  
It's all going so smoothly for Lisa and Penn that you just know something has to go wrong. A storm suddenly blows in and drops 15 inches of snow on New York. Penn is frantically trying to get Teller on a plane before all flights are either delayed or cancelled.
But they are confident when John Rich stops by to check on their progress. So confident that Lisa actually starts hitting on him, warning him that she hasn't seen her husband for a month, so he had better be careful. Penn keeps on track, outlining their program. John gives Lisa's hand a goodbye kiss, and Penn kisses John's for good luck.
John is not as impressed with Power's efforts. Trace tells him that the storm has knocked out most of the people he'd like to have at their party, including Dolly Parton. John says that Lil Jon is the "King of Crunk", and interviews that if he was on the team, he'd dress Lil Jon up as a king, and have him sitting on a throne, pouring shots. Lil Jon likes the "King" idea, wondering if they can get a costume. But Marilu is not very receptive.
Penn is still trying to get Teller to New York in time, but in the event that he doesn't, Penn and Lisa prepare an alternate act, where Lisa would stand in for Teller. Penn would juggle three apples, while simultaneously feeding one of the apples to Lisa. If she moves wrong, however, she would essentially be punched in the mouth. Lisa laughs, and says that's perfect; her lips aren't real anyway.
Trace finally locks in Hunter Hayes as their entertainment. Marilu procures some thrones, capes, crowns and scepters, but still hasn't let Trace and Lil Jon in on how she plans to use them.
Plan B's Lisa and Penn, with the hardy Teller, have a lot to do the morning of the party. A very much thinner Lisa Lampanelli arrives as they're having furniture moved. David Burke arrives, two minutes before the party starts, with a crazy array of fun food. He's even gone through four thousand calamari to find calamari heads that look the most like a Joker's hat. Lisa and the guests are blown away by the spread.
The execs, John Rich and Don Junior arrive at the Joker suite, where Penn is ready to perform with Teller. They do a scary trick with needles and thread that has the audience in awe, before Lisa Lampanelli begins. Lisa is at her raunchiest, even causing Penn to blush and wonder if she might have shocked the Foxwoods people.
At team Power's suite, Marilu has Lil Jon and Trace positioning a heavy mirror, and dusting tables. Lil Jon tells her that his contact for the DJ equipment fell through, so he can't perform. With five minutes to go, the team is still setting up the catering and furniture. As the guests begin to arrive, Marilu presents them with caviar and champagne, and invites them to play a game of chess against a chess master.
Trace is not at all impressed with the idea of playing chess in the middle of a party, and I have to agree. When John Rich, Trump Junior, and the execs arrive, they are shown the array of food, invited to learn chess, and introduced to "The Countess" from "The Real Housewives of New York." One of the execs takes advantage of the masseur/physiotherapist while sitting awkwardly in a throne.   Lil Jon is seriously underwhelmed by it all, and since he's not DJ-ing, he just floats around the room talking to people.
But at least Trace's entertainment has arrived, and he's delighted to introduce Hunter Hayes to the room. Hunter's newest song is well received, and Marilu dances with John Rich. Marilu thinks a lot of things didn't come together, but Hunter Hayes' performance pulled it off in the end.
After the parties, Trump Junior gathers the execs and John Rich to hash over what they've seen. The execs feel that both teams nailed the branding. Marilu's massage chair gets thumbs up, and Lisa's use of David Burke is praised. Surprisingly, they feel that Marilu's suite was more pulled together than Lisa's. They also felt that Hunter Hayes was "a broad reach across our demographic," appealing to a large segment of the Foxwoods guests. And the winner is …