'All-Star Celebrity Apprentice': Hello Chess Master, Goodbye Marilu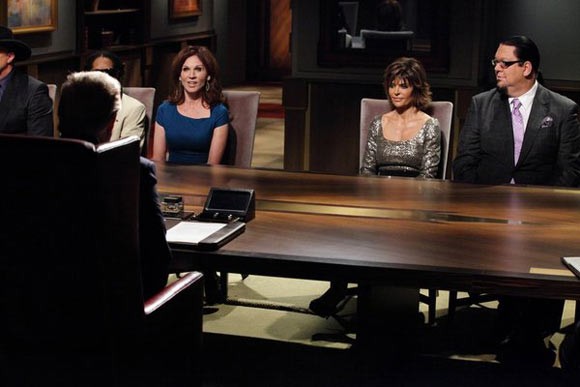 Step into the Board Room now, celebs. Trumps first question is to Lisa, as he asks her if she thought her suite or her party was better. She thinks they did well on both. Marilu says that their entertainment was terrific, mentioning Hunter Hayes, "The Countess," and their chess master. Trump thinks that choosing a "King" suite over a "Joker" suite may have been an advantage.
Lil Jon praises both the party and the suite, but adds that Marilu's a very hands-on manager, who likes to do most of the work. Marilu says she didn't trust Lil Jon's visual sense, and wanted both Lil Jon and Trace to just concentrate on providing the entertainment. She adds that she felt Trace was having a bad day while they were working out their presentation.
Trace says he felt they were messed up right from the start, when they didn't take "Joker" away from Penn. Lil Jon agrees, as does John Rich, since clearly giving "Joker" to Penn gave him an advantage. But Trump still prefers the idea of a "King" suite.
John Rich again brings up Lil Jon's title of "King of Crunk." Marilu says that may be so, but he was also supposed to be their DJ, and didn't come through. Lil Jon explains to Trump that Crunk is essentially getting crazy, with a lot of energy.
Marilu also mentions that Trace was of little help, and has been crabby during the last few tasks. He agrees, saying he doesn't feel they've had any strong ideas he can get behind.
Penn says that he always says the onus has to fall on the project manager, even if it's himself. He and Lisa worked well together, and he doesn't think there's much chance they'll lose. Lisa agrees, and throws in that she's raised the most money for her team, over $400K to date.
John Rich sums up what the execs thought of Power's suite and party, saying that they did think the "King" theme was a bit too obvious and a little theatrical. They loved the massage, hated the chess master. Don Junior tells Plan B that the execs thought the team integrated the themes beautifully, but found the suite a little lacking in fun elements.
Trump is pleased to tell Lisa that her suite and party was judged far better than Marilu's, so her charity will be receiving the $100K prize. That brings Lisa's combined winnings to over half a million dollars for St. Jude. Lisa cries as she thanks everyone. She and Penn leave for the Victory suite hand in hand.
Trump immediately wants to know who okayed the idea of having a chess master. Lil Jon says it was Marilu's idea, which she defends as being part of the brief, filling the 'intellectual' category. No one thinks chess should be part of a party, however. As to entertainment, she can't believe Penn was able to bring in big names, what with the weather, and blames Trace for not having brought in better known musicians.
Trace says that he did his best with the entertainment, and was hoping he could bring in Dolly Parton or Blake Shelton for the 'wow' factor, but both were snowbound. He feels that everyone who saw Hunter Hayes was blown away, regardless.
Lil Jon, clearly miffed that Marilu didn't pursue using his "King" moniker for the party, says that he couldn't understand why she didn't jump on the idea. He did order the robes and crowns, but wasn't encouraged to take on the role. John Rich says that knowing everything about your team mates, including their nicknames, is all part of the toolbox when you are playing Celebrity Apprentice.
Marilu defends herself by saying that she's been integral to winning 7 out of the last nine tasks, and has presented countless ideas. She thinks that Trace should be fired, for dropping out (mentally) three tasks before. He says it's odd, then, that they've gone with his ideas for all three of those tasks. Lil Jon thinks that Marilu's frenetic energy was getting to Trace; she just moves too fast for him.
Marilu says it's just the way she is, and she feels that she's got the skillsets to go forward, and win the competition. Trump agrees that he would love her to win, but she did pick the chess, and was ultimately responsible for the overall presentation.
When she continues to blame Trace for not providing the 'wow' factor in entertainment, John Rich calls her out, saying that she or Lil Jon could have just as easily picked up the phone and gotten anyone in the entertainment business to be there, for a chance to appear on Celebrity Apprentice. While she agrees, she feels that Trace and Lil Jon let her down, and that she feels like they want to get rid of her, as one of the strongest contestants.
Trump says that he likes Marilu and he thinks that she's done well, but didn't come through on this challenge. He can't see a reason to fire either Trace or Lil Jon, as they did what they could, but she, as project manager has to take final responsibility. So – Marilu, you're fired.
Trace growls a little, and he and Lil Jon leave. Marilu keeps a brave face, and waves goodbye.
Marilu's exit interview: "I really think that my two team mates kind of checked out. They felt like, "Oh, we did our project manager thing, we're gonna be Final Four, it doesn't matter what happens." Trace definitely checked out. He wasn't at his best. His mother should have kept him home, because I think he has the flu."
Next week on Celebrity Apprentice: In the first five minutes, the Final Four are called back into the Board Room minutes after the end of last week's show. Two All Stars are immediately fired. Then, some old faces come back for the final task. And get ready for the return of Busey!