'All-Star Celebrity Apprentice' Down To 2 As Finale Battle Begins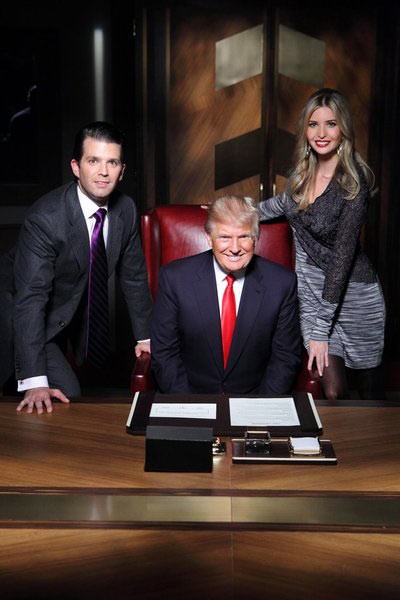 Last week, the teams were tasked with designing a luxury suite in Brooklyn's Barclay Centre. Power's Marilu Henner, with help from Lil Jon and Trace Adkins, lost to Plan B's Lisa Rinna and Penn Jillette, who won the challenge and $100K for Lisa's charity. 
Trace and Lil Jon enter the Victory suite after Marilu's departure, and greet Lisa and Penn. As they congratulate themselves on being the Final Four, the phone rings, and its Trump, summoning them all back into the Board Room.
Trump, with Ivanka and Don Jr., tells them that two of them will be fired immediately. Trace says that he's still got some bullets left in his gun, meaning that he's still got the ability to be a high fund raiser in the finale. Lil Jon calls himself a strong, creative player with good leadership ability. Lisa's says she's fought hard, and has proven herself this time around. Penn adds that Trace and Lisa may have raised the most funds, but he's been their second in command, which combined with his ability to handle pressure, makes him a good candidate for Final Two.
Regardless of the celeb's words, Trump arbitrarily fires Lisa, for not being as strong as Penn, and Lil Jon, for a low project manager ratio; one win/one loss. However, Lil Jon is given an additional $20K for his charity, American Diabetes Association.
Lisa's exit interview: "I came so far. To me it was such a win/win/win/win/win situation, in so many ways. And just the message that it puts out, I think, to everyone; not to give up, ever. Look at how far you can come, if you set your mind to it. "  
Lil Jon's exit interview: "I would have loved to be in the Final Two. I wanna go in there and just kick the Board Room table over, because I'm supposed to be Final Two. But you know what? I played a great game, and I stepped up when needed, so … you could tweet Mr. Trump right now and tell him I should have been in the Final Two! Why don't y'all do that?"
So, Penn and Trace are the Final Two. It's gonna be dueling ponytails on the next task.
The next morning, Trump, Ivanka and Joan Rivers meet them in the Trump Building. They are joined by an executive from Walgreens, who explains that they introduced a new product, Delish Ice Cream, last year. For their challenge, they will have to create a new flavor of Delish brand premium ice cream that will be sold in all of their outlets, nationwide. In addition, they will have to design packaging, produce a promotional video, and raise money for a launch event featuring the new flavors.
They will be judged based on their ice cream's flavor, brand messaging and creativity of both the video and the product packaging, overall presentation, and additional money raised through ticket sales to the launch. The winner will receive 250 thousand dollars for their charity.
They'll need some help, so some of the previously fired celebs return to be on the teams. Penn is happy to be reunited with Lisa, and to work with La Toya Jackson, and Dennis Rodman. Trace welcomes Lil Jon, Gary Busey, and Marilu Henner. Awkward!
The teams travel to food labs. While deciding on which flavor they'll create, the players are also working their phones, trying to drum up big ticket sales. Trace says his tickets will go for anywhere from $5000.00 to a quarter of a million dollars.
Penn's excited to have the opportunity to win so much money for his charity, Opportunity Village, which was created by Wayne Newton, Elvis Presley and Colonel Parker back in the 60's, to help give work to people with intellectual disabilities. They created places where the people could learn to do work, for which they would be paid. Elvis himself wore only scarves made by the Villagers in his stage act. Penn becomes emotional and choked up as he tells Lisa and La Toya the story.
Penn decides he'll trade on his own success, and use Penn & Teller in the video, along with four Vegas showgirls. They brainstorm on the flavor they'll produce, coming up first with "Sin City" and then La Toya's offering "Vegas Magic Swurtle," which has tiny chocolate turtles in the mix.
Now, can Penn get Wayne Newton himself to show up for their event? It doesn't seem likely, as Mr. Newton is actually scheduled to be in a parade in Phoenix that day, but he'll do his best.
Team Trace develops two flavors, one based on the taste of Red Velvet Cupcake and the other, Maple Macadamia Candy. Gary is quite literally the kid in the candy shop, and he gorges himself on all the ice cream he can eat. Marilu can't believe when Gary goes from a manic sugar rush to a sound sleep on his desk.
Joan Rivers pops by to see how Team Trace is doing. She warns them that there are three parts to the challenge, including the event, and Team Penn will have an advantage, with his huge rolodex of people to call. Joan interviews that she thinks Trace's roster doesn't have the same star power as Penn's. "Country Western? Marilu? Half of her friends are dead already. You know what I mean? Gary Busey? I don't think his Christmas card list is gigantic."
She then visits Team Penn, where Penn is kicking around ideas based on Vegas images, and impressing Lisa with a sleight of hand trick involving the ice cream. Lisa's ready to study at Joan's feet – Joan knows how to work it like nobody's business. Joan calls Dennis "a black Liberace," and is stunned to hear that Wayne Newton is to appear at the party. Penn also tosses off that he'll probably have Debbie Harry and Dick Cavett dropping by as well. She thinks that Penn's got the winning team, but worries that the invited celebrities will flake out at the last minute.
Trace and Gary leave for their taste testing group. Gary is bouncing off the walls. Marilu tells Gary he needs to look at people's faces when they taste the ice cream, to make sure they're getting the right reactions. Busey yells encouragement to customers, offering free samples, and getting right into their faces when they try the ice cream. Maple Macadamia Mash Up seems to be the big winner at the trials, so that's the one they're going with.
Dennis and La Toya run their test taste in a far more sedate and quiet fashion. The Magic Swurtle is a clear winner, which pleases La Toya, as it was her choice. But suddenly, Penn and Lisa wonder if the name works – unless people understand about the chocolate turtle ingredient, it may just seem silly. But it's too late to change now.
Lil Jon has a concept for their video that involves Gary doing the "Busey Dance." Hopefully it could go viral. Gary's always game for dancing.
Penn's got partner Teller, with showgirls in tow, for his video. Dennis Rodman's spirits pick up immediately.     
Filming begins for both teams' videos. Trace has a vision of a grandfather and grandchild, eating ice cream, while the child explains that a mash up is a mix of old and new concepts. The grandfather decides to try a dance mash up, which the child captures on her phone and sends to her friends, only to have the dance go viral. Gary stretches in preparation for his dance debut.
Lil Jon is not convinced Gary's got the moves, so he demonstrates to Gary some moves he can do with his shoulders and elbows. Gary dances around the room, until he collapses on a divan, and falls asleep. Marilu has to wake him up when it's time to shoot the video. But Gary gets it done in the end.
Penn is worried that he'll mix up the sponsor's name again, so he asks for cue cards. Lisa has to play Cue Card Girl, but she's terrible at the job. Penn & Teller perform their magic, surrounded by four showgirls in full feather and rhinestone costuming, while Dennis lies on the floor to catch the liquid spilled in the magic trick. Dennis finds it very easy to lie on the floor, looking up at the half naked showgirls. La Toya tries to get Teller to speak up, unaware that he never speaks when in his Penn & Teller character.
On to the editing suite. Trace heads there before the rest of his team, knowing that Lil Jon can just keep sending him new shots as they happen. He sends Gary home, in order to concentrate on editing, and to continue to try and sell their tickets. Marilu, meanwhile, nitpicks on every shot, driving Trace and Lil Jon crazy.
Things are going pretty smoothly at Penn's suite as well, until Lisa and La Toya notice that most of the product framing is showing a lot of show girl crotch. "I love a bedazzled crotch more than anyone. But I don't think it belongs in Walgreens." Oh Lisa, you are such a spoil sport.
A bigger problem is that Penn's video is running long, and they can't figure out how to cut it to the one minute length required. He thinks they've just lost the challenge.
And cut! That's it for this week! The finale continues, and the season ends, next Sunday, May 19th.  See you then!
Next week: It's finally here. "It's Show Time!" It's the live season finale, with the toughest final task ever. And you won't believe how it ends! Then, your favorite all-stars return live, and Trace and Penn duke it out for the win. Watch it next Sunday, May 19th!