'All-Star Celebrity Apprentice': Dee Snider Decides To Take It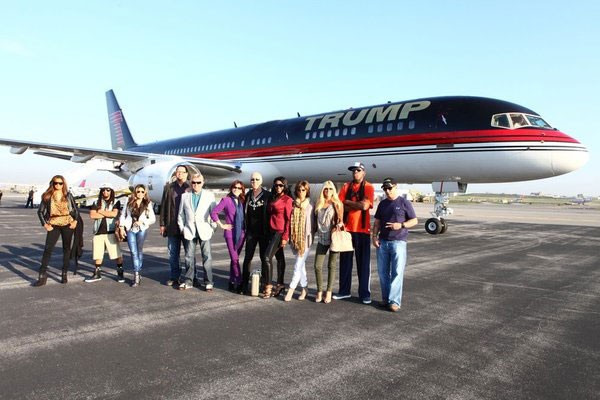 Last week, Omarosa came out of the blocks swinging, and took out Bret Michael's, whom she considered too strong a player to compete against. The 13 other celebrities, many of whom had encountered Omarosa before, took note of her tactics, but seemed to feel that Trump would never fire her this early in the game. Were they right?
This week starts with Donald Trump surprising the celebs after Bret's firing, with the news that they'd be boarding "the greatest private airplane anywhere in the world." It's his own 757 of course, lah di dah. And they're going to Universal Orlando Resort, for their next task, which they'll soon discover. Dee Snider steps up immediately as Project Manager for Plan B, saying he's been there 50 plus times, and knows the place like the back of his hand.
On Team Power, Omarosa graciously takes the lead. She's playing for her late fiancé, actor Michael Clarke Duncan's, favorite charity. Brande Roderick interviews that she doesn't think it will be smooth sailing with Omarosa at the helm; she's already backstabbed everybody, and it's only the second task!
The celebs are impressed with Trump's plane – Dennis Rodman has severe plane envy, and Stephen Baldwin can't wait to tell all his friends about it.  They've barely had a chance to sip their champagne before Trump appears, via big screen TV, to give them their task. Both teams will create a 3D, interactive photo experience, using Universal's resources. They'll be judged on the creativity of the photos, integration of Universal's marketing campaign, and guest experience. Donald Trump Jr and Eric Trump will be the Donald's boardroom advisors, and will visit the teams onsite. The winning team will get $20,000.00 for their charity. Hmmpf – Trace Adkins is taking $670,000.00 over to his charity, The American Red Cross, as we speak, from his stint on the first task! And by the way – there's no trace of Trace this task, as he's fulfilling a prior commitment with Big and Rich and Blake Shelton.
Lil Jon gives his impression of how Trump uses his hands while talking, and says that he remembers a similar task a few seasons ago, so he's got a few ideas already. Omarosa warns us that she'll play a straight, clear and strategic game with her team mates, as long as they do the same. You don't have to worry about her backstabbing; she'll come from the front.
Team Power check out their War Room, discovering that they have a specific 12 foot area to cover. Their first idea is a Photo Booth theme. The Universal representatives, Donna and Alice, arrive with the specifics of the task. They want the celebrities to go into the park, and capture images of themselves, and guests enjoying the experiences that make Orlando unique. Rodman wakes up long enough to ask if the policy is to incorporate celebrities into their ad campaigns. Donna and Alice say that they haven't currently, as the film characters are the stars.
Donna and Alice then visit Plan B's workshop, where Dee tells them he's been to the resort 50 to a 100 times, which seems a little excessive to me, unless you work there. Lisa Rinna asks if photos are a big part of the Universal experience, and is told that many guests think a souvenir photo of their time at the park is a high point. It's about families connecting and making memories.
Lil Jon and Omarosa work on an idea of creating three rooms representing different aspects of the park, with a way of moving from one area to the next. She keeps Rodman as her assistant, sending Lil Jon, Brande, LaToya Jackson and Claudia Jordan out to take photos and bring back props. She specifies Harry Potter and Despicable Me as two of the three characters, leaving Lil Jon to wonder how he's supposed to guess the third.
So off they go, clicking pictures of each other, and buying things, hoping it will all fit in to Omarosa's total vision. She dismisses their work as "riding rides and eating cotton candy."  When the fabricators arrive to work on their project, she decides Spiderman will be the center motif.
Even Rodman sees that Omarosa's elaborate plans cannot be completed within their time frame. And when the team returns from shopping, they're taken aback that Omarosa has gone ahead with the Spiderman theme, without letting them know. She wishes they'd brought back some Spiderman merchandise, which they would have, had she let them know.
At Plan B, Dee's not sure what direction they should go in, but says he's always noticed that the Board Room judges want the celebrities to use their fame in each task. Should they do cut outs of the team, that people could pose with? Penn Jillette says that every video store has cut outs – but he's got an idea. A picture people would want to keep would be a picture of something impossible, that doesn't look photo shopped. He's worked with Universal before on the Penn and Teller Haunted House, and could use their resources to do an illusion that will make it appear that people's heads are floating, or on a tray.
Dee can't decide on an idea, Gary Busey thinks Penn is a genius, and Stephen Baldwin just wants them to get started on something. Marilu Henner thinks the floating head idea is amazing, but worries it's too time and labor intensive. And Lisa Rinna thinks they'd better get out and starting taking pictures.
They're given a couple of cameras to use, and Busey wants to have one. Trouble is, he cannot for the life of him figure out how to take a picture. Marilu says Busey's like a jack in the box, popping up when you least expect it. Very dear, very sweet … but so irritating.