'All-Star Celebrity Apprentice': And Your Little Mechanical Dog Too!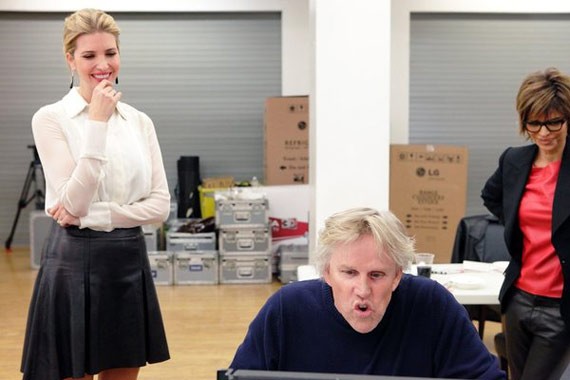 Last week, Gary Busey got on Lisa Rinna's last nerve, with his inability to focus or be a part of their tiny team. But Penn Jillette still managed to pull off a successful task, winning for Plan B. Team Power's Brande Roderick took the fall for the loss, and was fired.
After last week's Board Room, Lil Jon is the last original member of Power, and he feels like the proverbial "black guy in a horror movie." With only six players remaining, Plan B is still not playing on a level field; Gary is their weakest link.
Donald Trump greets the troops with a surprise advisor – Joan Rivers, a previous Celebrity Apprentice Winner. Ivanka Trump will be the other advisor. With them is James Fishler, Senior VP of Marketing for LG. The teams are told that they will be making a 90 second commercial promoting the LG line of interactive Smart Home and Home Entertainment systems. They will be judged on creativity, integration of product knowledge and overall presentation.
For project managers, Lil Jon is chosen for Power, and Gary for Plan B. The winning project manager will win $40,000.00 for their charity, as well as an additional $1.00 for every share of the winning video on LG's Facebook page, up to $35K.
Penn, a self-confessed techie, is thrilled to work with the gadgets, but Gary – not so much. In fact, he only wants to be project manager so that he can win for his charity, Kawasaki Disease, from which his son has suffered.
The teams arrive at "model home" setups, with a kitchen and living room laid out for easier understanding of the Smart Home systems. A three man geek squad of LG product specialists visits to run the celebs through the paces.
Penn is in heaven; smart technology is like magic to him. Lisa loves the practicality and ease of household management. Gary is unable to comprehend the details, so spends most of his time just writing down the names of things, slowing everyone else down. In fact, in the middle of a demonstration of how the phone integrates with the refrigerator, Gary simply wanders away into another room, uninterested.
Trace Adkins enters Power's studio, telling the others, "Welcome to nerd heaven." Lil Jon is excited about the task, and the LG products. The techs explain that the system allows them to link up their phones to everything in their house; refrigerator, oven, dishwasher, washer and dryer, and TV. The phone has new features as well, like a "cheese" feature. If you say "cheese," the camera in the phone takes your picture. That would be handy at a wine and cheese party!
Marilu loves the way the household items are integrated, especially the refrigerator, which operates so efficiently that it would be like having another family member. On the other hand, Trace just wants his refrigerator to tell him "Go away, you're too fat. I thought you were on a diet."
Mr. Fishler drops by to help the teams with branding. Power's Marilu burbles on about how impressed she is with the system. Fishler says the key message is that "LG makes life good." And that they need to show that not only are the products easy to use, they can even be fun to use.
At Plan B, Fishler goes over the same points, telling the team that LG positions itself as a warm and friendly, "Life's Good" kind of company. They want consumers to see that the tech is easy to understand, and will give people back some of the time previously spent on household management.
Gary's pretending he gets the message, but in reality, he's off in lalaland, intending to follow his own creativity and spontaneity. Neither Penn nor Lisa can get a word in edgewise, as he shoots down their every idea mid-sentence. Penn throws out three concepts to which Gary shows little interest. As Lisa tries to propose a time travel concept, Gary says, "sssh, sssh … be quiet. Hey honey, slow down with your words."
Gary then describes his concept. "What will LG do next? And you'll hear Dad say, "They're gonna create a mechanical dog!" " And then he'll act like  dog, barking, go down on all fours, maybe humping the coffee table. (truly, Busey's own words.)
Lisa and Penn laugh at the absurdity, which Gary takes as appreciation of his idea. But as Penn says, "he is – literally – barking mad."
Penn and Lisa try to put something semi-professional together. Lisa feels completely disrespected, but Penn says the problem goes far deeper than Busey telling her to shut up, and it's the idea of a mechanical dog.
As the crew arrives for the video shoot, Gary asks Lisa and Penn if they are satisfied and happy with their script. Penn admits that he's worried about the overall idea. Busey may be project manager, but his vision and LG's vision do not overlap in any way, shape or form. However, he tells Busey that he's completely behind him, and committed to the task.
When Gary says that he has a feeling that Penn doesn't have complete confidence in the script, Penn readily agrees that he doesn't. Penn hopes that, when he sees what Gary creates, he'll understand better. Privately, he thinks Gary's off track. "We're hunting Moby Dick, it's a bad idea, and Ahab's in charge. And he's gone mad."