All-Girl Four Piece The Hedrons Have Classic Chick-Rock Sound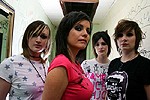 Granted, Scotland is best known for its bagpipes and teary-eyed sad bastard music. But, let's get one thing straight: Glasgow's
The Hedrons
don't cry; and the only pipes in this band are on lead-singer Tippi. Seriously, what you see is what you get here – four rough-neck chicks belting out loud, blustering, bar music. Of course, these no-frills femme fatales follow in the footsteps of the much more testosterone-dominated
Stooges
, or the slipshod pop punk of the
Ramones
. But we can certainly hear some of that soaring, chick-empowerment of
Joan Jett
or the slop-pop of
Veruca Salt
, too. And with attention from publications like Spin and NME, they're quickly becoming a force to be reckoned with.
"an all-girl four-piece who sound like
Patti Smith
meets Penetration with a dash of early
Blondie
and a smidging of
The Runaways
... you have to hear this band!"
- NME
"…simultaneously channels the rebellious rage of the Runaways and the charming edge of Veruca Salt."
- Spin.com
Agreed. Their debut album 'One More Won't Kill Us' should even make dudes want to be in an all girl band. Just take a peak at the video for sneering lead single "Heatseaker," or live footage from their Isle of Wight performance, and try to argue:
The Hedrons @ Isle of Wight
Heatseaker

Speaking of heat, the summer months find these Glaswegian gals trekking all over the place – from their native Scotland, to Canada, to the good ol' U S of A. Plenty of festivals on the docket, but also some cozy club dates, too. And after a year filled with high points like opening for the
Stones
at Isle of Wightt, being personally invited to play with Alice in Chains in London Astoria, headlining England's Download Festival, and being a featured band at T in the Park, we're expecting these to be pretty packed — so scoring tix now would be a good idea.
07-06 Stirling, Scotland: McQ's Live!
07-08 Ballado, Scotland: T In The Park
07-12 Rochester, New York: Water Street Music Hall
07-13 Burlington, Vermont: Nectar's
07-14 Montreal, Quebec: International Summer Fest
07-15 Toronto, Ontario: The Boat
07-17 Toronto, Ontario: The Horseshoe Tavern
07-19 New York, New York: The Annex
07-20 Boston, Massachusetts: Great Scott
07-21 Falls Church, Virginia: The State theater
07-22 Philadelphia, Pennsylvania: North Star Bar
09-15 Dundee, Scotland: Ultimate Chill Festival
10-06 Darvel, Scotland: Darvel Down Hall
(Streaming audio and/or video links may expire without notice)