Alicia Witt Talks 'Law & Order: CI,' Playing The Stupidest Character Imaginable & More

Alicia Witt
is not just another pretty face. After being discovered by director
David Lynch
at the age of seven, she was featured in "
Dune
." Lynch went on to utilize her talent in the quirky TV show "
Twin Peaks
." She also played Zoey in the TV series "Cybill" and has been featured in other television and movie roles, most recently "
Law and Order: Criminal Intent
."
When did you begin acting? Did David Lynch discover you?
I made "Dune" when I was 7. His casting director had seen what I had done (I was on a variety show when I was four.) I didn't have any formal training, so I wasn't well known. She basically looked up my parents' number in the phone book and asked them if I could come to New York for an audition. I loved doing "Dune." I couldn't believe that people actually got to do that for a living. Of all the movies to have for your first! That was completely surreal.
Like Baron Vladimir Harkonnen flying around?
At that time it was the most expensive studio film ever made with a $75 million budget. With those special effects, wardrobe, and creatures such as the Sand Worm, it seemed to me the most ridiculous job a person could have and the most fun. I still feel that way.
You get such interesting roles. You were in "Twin Peaks," too.
That was because I had already known David. He had the part of Gertsten written for me as a way to help me in my career, so at the age of 14, I came to L.A.
Were you as confused working on it as we were watching it? It took us until the end to get it.
I think the brilliance of that show was that there was so much to understand, so it was open to many different interpretations.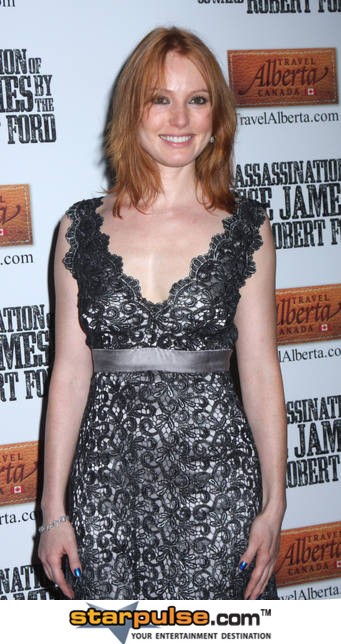 Now you are in "In Law and Order: CI." Did it start out NBC like the others?
The way it works is that it is on USA this season, and NBC, where it had been last season, is going to air the new episodes in mid-season, because they are both owned by NBC Universal. The show is the same and USA went nuts promoting it because it was new to them. It probably got more attention, like the billboards all over New York, because of that.
Are you anything like your character, Nola Felacci?
(laughs) I love her! She's awesome! She also has a really good sense of humor and I love the rapport she has with Logan (
Chris Noth
). I like her honesty, and I like the fact that she is fully aware that she is offending people a lot of the time. That's her way of getting the truth out of them. She doesn't have time for chit chat. In terms of interrogation, her idea is that as long as she just tows the line of being appropriate, she can get the information out of people.
You were lucky to get a part like that. She is a great role model.
I agree. When I first heard that the part was available, I was really excited, but I also made sure that she wasn't just going to be a shadow at Logan's side. If she had been bland and by the books, that would have been really uninteresting. The format is such that each of the episodes is self-contained, so you don't have to watch the entire series to know what is going on. But at the same time, within that episode, there can only be a tiny bit of character development. She has a strong personality to begin with, so you get more of a feeling of who she is.
Has the show been effected by the writer's strike?
Oh, yeah. I've got the rest of the year off, and I don't know when I am going to be back at work. I have one episode remaining to shoot out of 6 and that will probably be at the beginning of next year. I am the temporary replacement for
Julianne Nicholson
, who is on maternity leave.
What's your favorite medium to work in?
I prefer film and theatre. I have not been interested in doing another series since "Cybill." You can get locked into one for years, and I prefer the unexpectability of not knowing what my next character is going to be.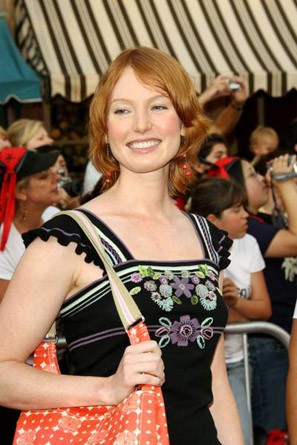 We understand that you have a movie coming out next year with Al Pacino.
Yes I do. It's called "
88 Minutes
" and it's about a forensic psychiatrist who gets a threatening phone call saying that he only has 88 minutes left to live. I play his teaching assistant and a grad student. My character, Kim Cummings, is with him through almost the entire film because she thinks that his life is in danger as well. It's a fun movie, and there are plenty of "red herrings." It's exciting and fast-paced. From the moment that he gets the phone call, the whole thing pretty much takes place in real time.
They also have an interesting relationship where there is some connection there but also a big age difference. There's an attraction and he doesn't want to explore it, but she does.
Well, he's Al Pacino! So you get personal in "88 minutes?"
(laughs) I absolutely adore Al. As if it wasn't enough to spend 2 1/2 months working with the greatest film actor there is, he is also so warm, completely magnetic, and giving. Everything you hoped he would be when you meet him, he is so much more. It's a real pleasure to work with someone whose been a role model for so many years, but then to get to know him, I admire him now even more. There was actually a screen kiss but I understand it isn't in the final version.
When will it be out?
I think its release was moved to April instead of February. I'm not 100 percent sure. It was made as an independent film and Sony is distributing it.
What do you have upcoming?
I have a couple of things brewing. I'm writing a lot of music, and playing and singing in New York. I have a gig coming up at The Bitter End, and there are a couple of other venues. It's been so much fun doing this. It's been a lifelong dream of mine. I've been meeting some amazing musicians in the city. I just played for a fundraiser where I played three of my original songs. It was an absolute thrill.
We know that you were trained in classical piano. Have you given that up to act?
In a way. I've never stopped playing. When I was doing it as a day job, I was doing lounge music. I used to compete as a kid classically. I did really well at that but I realized that I didn't want to be a professional concert pianist. It's such a disciplined existence. You have to go to a music conservatory and practice eight hours a day and hope that you end up in a performance medium instead of teaching. It's really rough. You have to love it so much you have to spend most of your life practicing. And that's wasn't really what I wanted. So I guess I gave up that aspect of it, but I still play classical music.
I got to do that last year in a play that was written for me called "Pianoforte" in London. I played this character that was just magnificent. She was a stammering agoraphobic. It was probably the greatest character that I have ever gotten to bring life into because she could not be more different from me, but the idea of expressing herself through music is of course, very much like me. I played all classical music in the play. I was the piano and the girl who played my sister was named Forte.
I think doing that play reminded me how much music meant to me. I started writing more songs, which I have doing my whole life, but never really did anything with them. When I got to New York in August to work on "Law and Order," it was as if the Universe had just thrown music into my life with such obviousness that I had no choice but to respond to it. I have a piano in my apartment and have been writing tons of songs and singing and just having a great time with it.
Will you have an album coming out?
That's my goal. I'm finishing my demo next week. I'll have a MySpace page by the middle of next week, too. That's the first step and then I will take it from there.
Which do you prefer, drama or comedy?
I like them both. One thing that I have never gotten to do is a really silly comedy, like the Farrelly brothers or something along the lines of "
Borat
." I have this total goofball side of me that I've never gotten to explore. Everyone who knows me personally knows about it and that I would like to play the stupidest character imaginable. Maybe someday you will see me do that.
Everyone will know now.
(laughs) Thank you.
By
Sheila Franklin
Starpulse contributing writer