Alice Cooper To Play Himself In Tim Burton's 'Dark Shadows'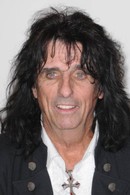 Alice Cooper has landed a horrific new cameo role in Tim Burton's new movie Dark Shadows.

The rocker will star opposite Johnny Depp and Helena Bonham Carter in the spooky film.

According to insiders, Depp's vampire character hires Cooper to headline a private ball at his home in Maine.

The film also features Michelle Pfeiffer, Chloe Moretz and Eva Green.

It won't be the rocker's first turn in a horror movie - he appeared in Nightmare On Elm Street: Freddy's Dead and John Carpenter's Prince Of Darkness.