Alice Cooper: 'I Was Destined To Work With Ke$ha'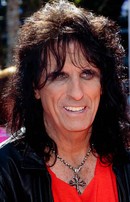 Alice Cooper originally wanted to team up with horror film icon Christopher Lee for his track "What Baby Wants" but had to settle for Ke$ha when he discovered the actor was busy recording his own heavy metal album.

But Cooper isn't complaining - he feels he was destined to work with the "Tik Tok" singer, and their collaboration is far better than anything he would have created with Lee.

The rocker tells Revolver magazine, "I was gonna use Christopher Lee, but he was making a metal album of all things, so I missed out on him.

"I met Ke$ha at the Grammy Awards... and she looked like a female Robert Plant... I told her, 'Ke$ha, you're in the wrong business. You should be doing rock.' So I invited her. I said, 'Let's write some songs.'"

The odd couple created new track "What Baby Wants" and Cooper is convinced destiny brought them together: "She comes to deliver the nightmare... She goes, 'What baby wants, baby gets. Let's go.' Christopher Lee wouldn't have been able to sing that, but a girl from the hip-hop world makes all the sense in the world in Alice's nightmare. And she nailed it."