'Alias' Spy is America's Favorite Government Character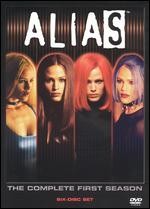 CIA agent Sydney Bristow (
Jennifer Garner
) of
Alias
is America's "Favorite TV Fed," according to a new poll by the Council for Excellence in Government. Agent Bristow earned 29.6 percent of the vote, squeaking out White House Chief-of-Staff C.J. Cregg (
Allison Janney
) of
The West Wing
by less than one percentage point (28.7 percent). Special Assistant to the Secretary of Defense Jack Bauer (
Kiefer Sutherland
) on
24
came in third with 16.2 percent of the votes.
The West Wing's President Josiah "Jeb" Bartlet dominated his competition in a hypothetical presidential election. Bartlet—played by actor
Martin Sheen
—earned 38% of the votes, followed by newcomer Mackenzie Allen (
Geena Davis
) of
Commander in Chief
with 25%, and David Palmer (
Dennis Haysbert
) of 24 with 20% of the vote. Among the current presidential candidates on The West Wing, Matt Santos (
Jimmy Smits
) received 10 percent of the votes, while Arnold Vinick (
Alan Alda
) scored 7 percent.
Americans are almost evenly split when it comes to who they think is better at solving crimes: the detectives from
Law & Order
or
CSI
franchises. The crime scene investigators in
Las Vegas
,
New York
and
Miami
inched out the Manhattan detectives by 2 percent, a difference of only 58 votes. And poll participants gave an overwhelming "stamp of approval" to letter carrier Cliff Claven (
John Ratzenberger
) of
Cheers
. Sixty-six percent rated him a better mailman than Newman (
Wayne Knight
) from
Seinfeld
.
More than 3,100 people across the country voted in the Council for Excellence in Government's first-of-its–kind, totally non-scientific on-line poll, launched to remind Americans--in an unusual way—-about Election Day earlier this week. The poll also highlights the organization's research that shows entertainment television is an intriguing factor in determining attitudes toward government.