Ali Landry Thrives On The Pain Of Childbirth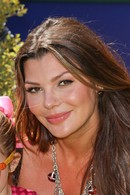 New mom Ali Landry relishes every moment of childbirth, insisting she thrives on the pain of contractions.

The model/actress and her film director husband Alejandro Monteverde welcomed their second child, son Marcelo Alejandro, in October, and Landry admits she gets thrills just from experiencing the natural high of giving birth.

Showing off her newborn in the new issue of People magazine, Landry says, "If it were up to me, I could deliver babies every week. I love having the contractions. I like feeling the pain. And then I love delivering the baby. It was the same way with (four-year-old daughter) Estela. I high-fived the doctor. This time I high-fived him again."

And Landry is enjoying motherhood more than ever the second time around: "It was an instant connection (with Marcelo). I was infatuated and completely in love. It's a truly overwhelming joy. That's how I feel."