Alfonson Cuaron Takes Top Prize At DGAs For 'Gravity'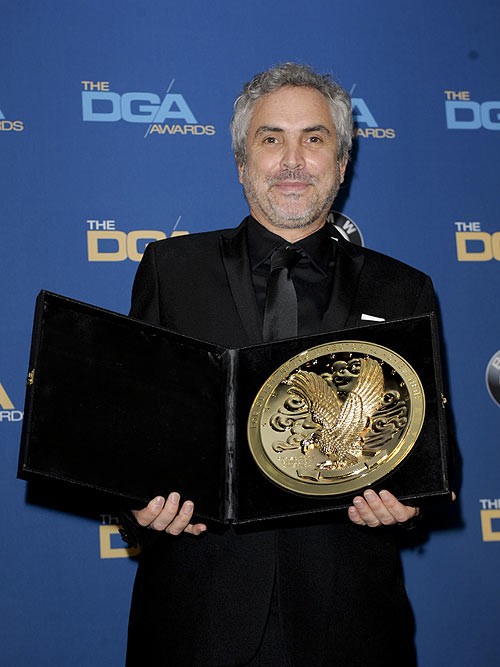 Director Alfonso Cuaron won the top prize at this year's Directors Guild of America awards on Saturday night for space thriller Gravity.

Thanks to the top honor, Cuaron is now the frontrunner for the Best Director Oscar after his win for Outstanding Directorial Achievement in Motion Pictures. Last year's winner, Ben Affleck ("Argo"), presented the director with the award.

"What you cannot see from up there (in space) is this bizarre experiment of nature that is the human experience," Cuaron said during his acceptance speech. "That experiment is what directors try to sort out with our films. Thankfully, that experience is as diverse as the films as these film-makers make."

Cuaron had some stiff competition in the category from fellow nominees Steve McQueen ("12 Years A Slave"), David O. Russell ("American Hustle") and Martin Scorsese ("The Wolf of Wall Street") and Paul Greengrass ("Captain Phillips"), the latter of whom is the only one of the five who isn't nominated for an Oscar. Replacing him in the Oscar race is "Nebraska" director Alexander Payne.

Other winners at the ceremony, held at the Hyatt Regency Century Plaza hotel in Los Angeles, California, include Steven Soderbergh, who won the Outstanding Directorial Achievement in Movies for Television for his HBO Liberace biopic "Behind the Candelabra"; "Breaking Bad" creator Vince Gilligan, who picked up the award for Outstanding Directorial Achievement in Dramatic (TV) Series, and Beth McCarthy-Miller, who won the award for Outstanding Directorial Achievement in a Comedy Series for "30 Rock."