Alfonso Ribeiro Breaks Up Barbershop Brawl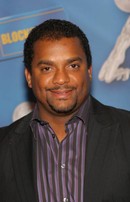 The Fresh Prince Of Bel-Air star Alfonso Ribeiro acted the part of the hero while getting a haircut earlier this week after splitting up a fight between two stylists.

The actor, who played nerdy Carlton in the hit TV show, was getting a trim at In The Cuts in Los Angeles when an argument broke out between two employees.
 
The altercation turned nasty when the pair began to brawl, prompting Ribeiro to jump out of his seat mid-haircut and pull them apart to stop the fight, according to TMZ.com.

However, a shaken Ribeiro reportedly refused to let the salon finish his cut, and hastily left the barbershop.