Alfonso Cuaron Wanted To Give Sandra Bullock Herpes And Other Memorable Quotes From The Golden Globes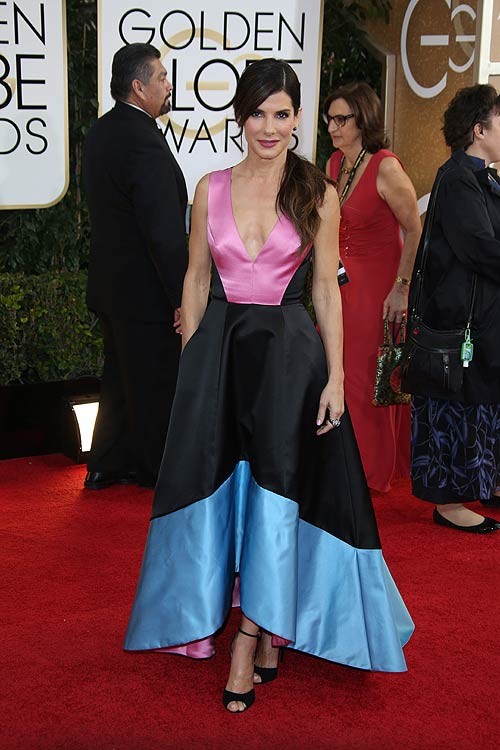 Sunday night's Golden Globe awards ceremony was full of hilarious and memorable one-liners from the show's hosts, Tina Fey and Amy Poehler, along with award presenters and recipients.

One of the funnier moments came when Alfonso Cuaron accepted the Best Director award for his film Gravity, during which he thanked Sandra Bullock for not quitting the film when he told her he was going to give her an STD.

"Sandra, you are the most amazing collaborator," Cuaron said, "I want to thank you for not quitting when you thought that I had told you, 'Sandra, I am going to give you herpes,' when I really meant to say, 'Sandra, I'm going to give you an ear-piece'."

Fey and Poehler were both on their game, cracking several memorable one-liners during their opening monologue, which had the audience of A-listers in stitches.

"Gravity is nominated for best film," Fey said. "It's the story of how George Clooney would rather float away in space and die than spend one more minute with a woman his own age."

The pair got in hilarious digs at all the nominees this year, explaining that they were back to host again for the second time because in Hollywood "if something kind of works, they'll just keep doing it until everybody hates it!"

Jim Carrey, who was there to promote his upcoming "Dumb and Dumber Too," introduced "American Hustle" as one of the Best Picture nominees, took a shot at actor Shia LaBeouf, who has come under fire over the way he's been handling a plagiarism scandal over the source material he used for a short film.

"Dying is easy. Comedy is hard," Carrey said. "I believe it was Shia LaBeouf who said that. So young, so wise."

Michael Douglas, who won the Best Actor award for "Behind the Candelabra," praised co-star Matt Damon, saying, "[You are] the bravest, talented actor I've ever worked with and the only reason you're not here is I had more sequins."

Breaking Bad star Bryan Cranston won the Best Actor in a TV drama award, but it was during creator Vince Gilligan's acceptance speech after the show won Best TV Drama that star Aaron Paul got to utter the phrase that made his character, Jesse Pinkman, famous.

"I gotta say the best thing about this is it gives all the people up here and folks who worked on Breaking Bad one more chance to thank the fans of the show..." Gilligan said as the cast took the stage for the award... "I think I speak for all the folks who worked on the show -- all the wonderful producers and directors and this amazing cast when I say... actually, the best person to say it, I think, would be Aaron Paul..."

Paul then took the statue from Gilligan and leaned into the mic to say, "Yeah b**ch! Thank you!"

Later in the show, Fey had Best Actor in a Musical Or Comedy winner Leonardo DiCaprio blushing when she introduced him to present the Best Actress in a Drama award.

"And now, like a super model's vagina, let's all give a warm welcome to Leonardo DiCaprio," she said.

But one joke (we hope it was a joke) failed miserably, when Brooklyn Nine-Nine creator Dan Goor accepted the award for Best Comedy Series.

"I'd like to thank my wife and two kids, even the two-and-a-half year old who is a nightmare," Goor said. "And I almost went to med school, I decided to do this. This is way better, way better than saving a human life. Thank you!"

Goor's comments were reportedly meant to be a joke, but viewers found them a bit puzzling, like how the show was able to beat out "The Big Bang Theory," "Girls," "Modern Family" and "Parks & Recreation."