Alexis Dziena Denied Restraining Order Against Parents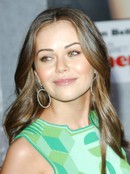 A judge has turned down actress Alexis Dziena's request for a restraining order against her mother and father.

The Entourage star claimed she was living in fear of her parents resorting to "murder or violence" to access her money when she applied for the ban at Los Angeles County Superior Court earlier this month.

In her filing, Dziena stated, "I fear that (my dad) will do anything to get my money in his hands. I believe murder or violence or manipulation are all possible outcomes."
 
However Dziena's petition was rejected after a judge ruled she had insufficient evidence to support her allegations.

Dziena is due to appear in court on October 3rd to plead her case in person, according to TMZ.com.