Alexander Skarsgard Goes Full-Frontal In 'True Blood' Season 6 Finale Nude Scene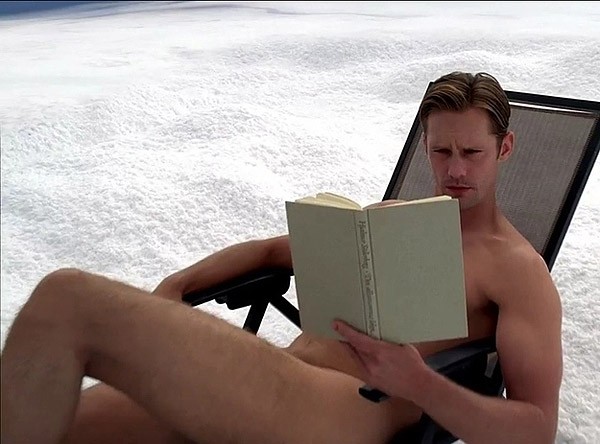 Alexander Skarsgard left nothing to the imagination in a full-frontal nude scene during Sunday night's True Blood season six finale.

(Spoiler Alert!) The scene came as Skarsgard's vampire character Eric Northman sunbathed nude on a lounge chair on a snowy Swedish mountaintop while reading a book, when he suddenly bursts into flames, getting up to run for shelter from the sun -- revealing both his manhood and his apparent demise as he exits the camera frame burning.

Rumors of a major character getting killed off have been around all season, but it was another character's demise that spelled the end for Eric.
Warlow (Rob Kazinsky), the love interest of Anna Paquin's Sookie Stackhouse, was also killed off as Sookie's brother Jason (Ryan Kwanten) drove a stake into his heart, resulting in Eric's death because the magical faerie blood Warlow had given Eric and several of the other vampires in Bon Temps to protect them from the sun lost its power when he was killed.
Several of the other vampires survived when the magic ran out because it nighttime in Louisiana while the sun was up halfway around the world in Sweden.
Last month HBO renewed the show for a seventh season, meaning fans of the show will get to find out what will happen after the season-ending cliffhanger.


Check out the full recap for this week's episode here.