'Alexander' Makes Basic Cable Premiere On AMC; Win The DVD!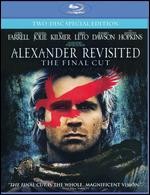 Alexander
, starring Colin Farrell, will be making its basic cable premiere on AMC this Saturday, June 21st at 8pm/7c.
The fourth film to chronicle the life of fourth-century B.C. ruler Alexander the Great,
Oliver Stone
's Alexander stars
Colin Farrell
as the titular Macedonian conqueror. The film follows the young king as he leads his forces on a bloody empirical conquest across the known world, taking large parts of Asia and the Middle East to amass a giant empire, all by the time he turned 25.
Anthony Hopkins
co-stars as Ptolemy I along with
Rosario Dawson
as Roxane,
Angelina Jolie
as Olympias,
Jared Leto
as Hephaistion,
Val Kilmer
as King Philip II, and
Jonathan Rhys-Meyers
as Cassander. -
Matthew Tobey, All Movie Guide
The Cast Reflects on Oliver Stone:
Oliver Stone on Colin Farrell as Alexander:
-
Enter to win a copy of the DVD Here
-
More on AMC's premiere of "Alexander"