Alexa Vega Wears A Bikini & Chaps In Sexy New 'Machete Kills' Promo Picture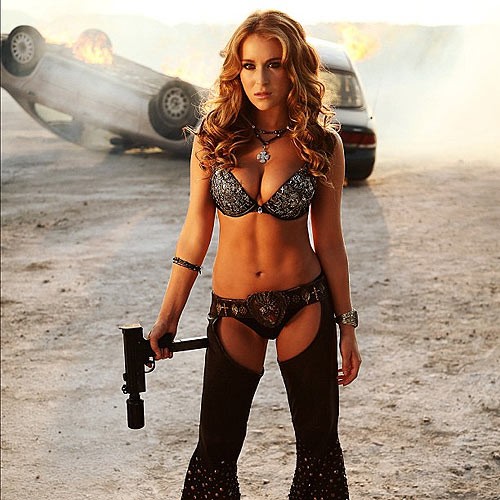 Alexa Vega has come a long way since her days as a Spy Kid, and she's set to star as "KillJoy" in next year's sequel to the insanely awesome Machete, Machete Kills.

The sexy 24-year-old star posted a picture of herself in a bikini top and chaps holding a machine gun to her twitter page with the caption, "Exclusive photo from Machete Kills! #RollingStoneMag"; and "Hey guys!!! Go buy the new #RollingStone issue for an exclusive pic from #MacheteKills !!!!"

The new promo pic is sure to create some early buzz for the film, in which Machete (Danny Trejo gets recruited by the United States government and sent to Mexico to take down an arms dealer looking to send a weapon into space. A third film is set to follow, Machete Kills Again, and it's rumored to take place in space, so we think it's safe to assume the weapon actually gets there at the end of Machete Kills.

All three films were spun off a fake trailer that ran between Robert Rodriguez and Quentin Tarantino's 2007 double-feature Grindhouse, which featured Rodriguez's Planet Terror followed by Tarantino's Death Proof.

The spoof trailer touted the films Machete, Machete Kills and Machete Kills Again, which it seems Rodriguez will stick to with his sequels.

Rodriguez confirmed the third film last July, telling MTV's Movies Blog, "It is a space opera. It does take place in space. Machete has to go into space. It's so absurd but it makes sense. You've got to go somewhere new in a third part — why not go into space? It's going to be so fun. It's played straight. Remember 'Moonraker'? It's going to be like 'Machete' and 'Moonraker'... 'Part 3' has to take place in space. Space babes, a machete-shaped lightsaber. You gotta have it!"

Rodriguez confirmed at Comic Con in 2011 that the trailer for the third film would follow Machete Kills, and rumor has it both films are being shot concurrently.

Michelle Rodriguez and Jessica Alba reprise their roles as Luz (aka "She") and Sartana, respectively; and are joined by new additions Sofia Vergara, Amber Heard, Mel Gibson, Vanessa Hudgens, Edward James Olmos, Cuba Gooding Jr. and Antonio Banderas.

Charlie Sheen is rumored to be playing the President of the United States.

Machete Kills hits theaters sometime in 2013.