Alex Trebek's Alleged Burglar Hit With Restraining Order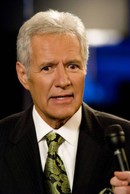 A woman accused of trying to steal from quiz show host Alex Trebek's hotel room on Wednesday morning has been ordered to stay away from the TV star.

The veteran Jeopardy! presenter is set to undergo surgery on Friday after he snapped his Achilles tendon as he tried to catch a woman who had been caught allegedly snooping around his hotel room in San Francisco, California. Police eventually captured the suspect, 56-year-old Lucinda Moyers, who was subsequently booked on charges of felony burglary and possession of stolen property.

A judge in San Francisco increased her bail to $625,000 and slapped her with a restraining order, which forces her to stay 150 yards away from the star and his wife.
And Trebek has revealed that the burglary has cost him his most dear keepsake - a bracelet belonging to his mother.

He says, "We got most of our stuff back, except the one piece of jewelry that I ever wear. It's a bracelet that my mother gave me many years ago, so that's gone. And cash. I figured she stashed it somewhere in the hotel, and we'll come back to retrieve it someday."

An arraignment was set for Monday.