Alex Kingston Knocks Out Front Teeth After Walking Into A Lamppost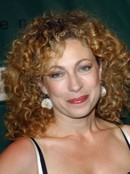 Actress Alex Kingston smashed her two front teeth when she collapsed following a head injury.

The former E.R. star was taken to the hospital for emergency treatment to a horrifying wound after falling over and biting through her bottom lip.

She had collapsed after suffering a dizzy spell following an incident earlier in the day when she hit her head on a lamppost.

Kingston tells U.K. chat show host Graham Norton, "I was jetlagged, working with comedians and I walked into a lamppost. It was a comedy moment, but I was so embarrassed because I thought I would be the butt of their jokes so I pretended I was fine and that night I started to feel really woozy and I fell flat on my face."

"I bit through my lower lip and knocked out my front teeth. It was really awful. I was doubly concussed and had to go straight to ER."