Alex Heartman Talks About Leading 'Power Rangers Super Samurai'
Many of us grew up pretending to be superheroes - but we don't ever get the chance to realize those dreams. Not so for actor Alex Heartman, who plays Jayden the Red Ranger on Nickelodeon's Power Rangers Super Samurai. With the first two volumes of Super Samurai now out on DVD, I caught up with Alex to ask him if playing a superhero is as cool as we all thought it would be when we were young.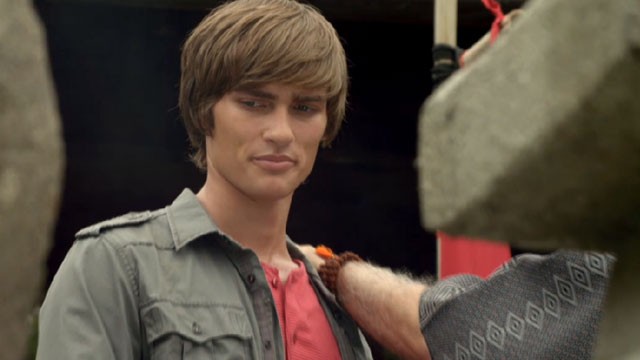 "It's amazing," he told me. "It's everything that I thought it would be growing up as a kid running around fighting bushes with sticks. I'm fighting actual guys in monster suits and actually have a real sword!"
After coming to the realization he didn't want a conventional day job - "I did an architecture internship my last year of high school, and after working in an office I decided I couldn't be stuck in an office all day every day" - and having been encouraged toward acting and modeling by his sister, Alex moved to Los Angeles and now he's taken over the mantle of Red Ranger.
After having grown up watching the original ​Mighty Morphin Power Rangers​ and "being blown away by every episode," what are some of the highlights of being the leader of the Power Rangers? "Being able to learn how to ride a horse for the show, that was a really amazing thing. That was a skill I never thought I'd be able to learn," he said. "Really just the overall experience of Rangers has been pretty mindblowing thing for me."
That includes the devoted fans of the Power Rangers franchise, who held the third "Power MorphiCon" convention in August. "The fans have been phenomenal," said Alex. "I didn't realize how loyal the fans actually were. Even before I knew I had the job, some of the fans knew I had the job. I didn't even know that I had fans when we were filming!"
It's easy to see how he's amassed a fan following, though. The 22-year-old is the direct opposite of his "cold, serious" television alter-ego: funny, charming and having just as much fun making Power Rangers as we're having watching it. A self-described "huge science fiction" fan whose favorites include Game of Thrones, The Walking Dead, and films like the Riddick trilogy and Underworld flicks, he's also in touch with Rangers fans via Twitter (@AlexHeartman) and Facebook.
If you're still not sure that he has a fantastic gig, Alex also has his own action figure - several of them, in fact, an achievement that would make the most hardcore geeks envious. "It's a trip," he said with a laugh. "I have him up on my shelf right now. I've got quite a few of them. It's kind of crazy. Sometimes I don't really believe that it's real: 'Oh, yeah, I'm a superhero.'"
No doubt, his childhood self would be proud of him.
You can pick up the first two volumes of Power Rangers Super Samurai on DVD here. New episodes air on Nickelodeon Saturdays at noon ET/PT; check out a promo spot featuring Alex at the end of this article.
For more from Brittany Frederick, visit Digital Airwaves and follow me on Twitter (@tvbrittanyf).
(c)2012 Brittany Frederick/Digital Airwaves. Appears at Starpulse with permission. All rights reserved. No reproduction permitted.