Alessandro Ambrosio To Model $2.5 Million Bra Set For Victoria's Secret Fashion Show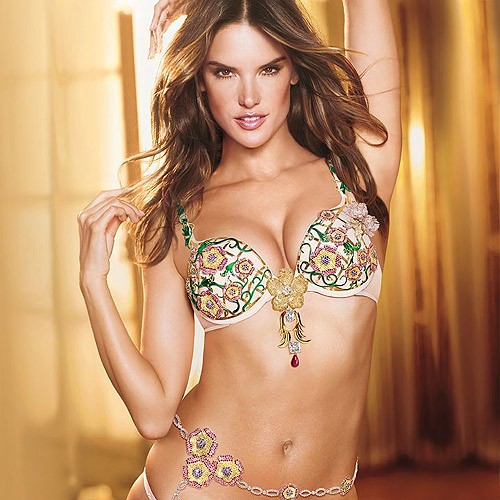 Alessandra Ambrosio has been chosen by Victoria's Secret to model a $2.5 million bra at this year's Victoria's Secret Fashion Show.

The model says that she was a little worried when she got the call just weeks after the birth of her second child in May.

"I just wanted to scream," she tells People Magazine. "But I won't lie, I was really worried. I was in total mother mode."

London Jewelers exclusively designed the Floral Fantasy Bra, which features over 5,000 precious stones including rubies, sapphires, amethysts and diamonds in 18 carat yellow and rose gold. The pricey piece is highlighted by both 12.5 and 20 carat diamonds at its center. A matching belt with removable diamond flower pins completes the gift set, which Alessandra will be showing off on the catwalk at this year's big show.

Despite the 31-year-old supermodel's anxiety over losing the weight she gained from her second pregnancy, she made it look easy.

"I was playing a lot of volleyball on the beach, swimming and running after my kids. And breastfeeding always helps," she tells People.

She also did plenty of yoga and pilates to help get toned up and ready to show off her sexy body again.

As far as the pricy bra goes, Alessandra says it's perfect.

"It was perfect for me," she says. "I felt they made it for me. It's very romantic."
Last year Miranda Kerr had the honor of showing off her cleavage in the design house's $2.5 million bra, also designed by London Jewelers.
The 2012 Victoria's Secret Fashion Show airs December 4 on CBS.