Alec Baldwin Lashes Out At Paparazzi For Getting Too Close, Uses Homophobic Slur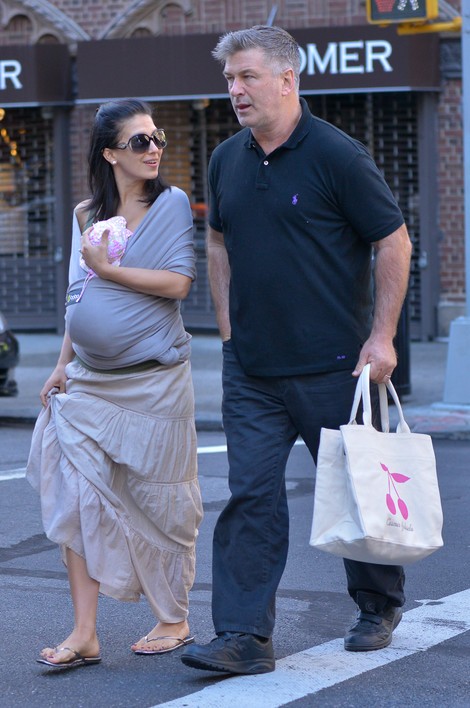 Merely hours after Alec Baldwin's stalker was found guilty and sentenced to 180 days in prison (plus another 30 for contempt of court during the trial), the actor lost his temper with the paparazzi for the umpteenth time.

Baldwin and wife Hilaria were leaving their New York City apartment with baby daughter Carmen when paparazzi spotted him and closed in for photos.

In a video obtained by TMZ.com, the actor can be seen lashing out at one photographer and yelling, "Get away from my wife and the baby with the camera!" Next, he begins chasing him down the block, adding, "What f**king language do you want that in?"

Another photog got a little too close for comfort after that, and Baldwin turned toward him and threatened, "Get away from my kid with the camera! You know what's gonna happen to you, don't you?"

Shortly after, as the actor was returning to his car, he was heard calling the cameraman what sounded like "c***sucking f**" (according to the wrap, Baldwin tweeted that he said "fathead," but the message no longer appears on his twitter page).

This didn't go over too well with the gay community.

"Mr. Baldwin can't lend his support for equality on paper, while degrading gay people in practice," a rep for GLAAD told TMZ. "It's clearly time he listens to the calls from so many LGBT people and allies to end this pattern of anti-gay slurs."

Baldwin made a series of tweets following the incident, alleging that it wasn't a gay slur that he used.

"Anti-gay slurs are wrong. They not only offend, but threaten hard fought tolerance of LGBT rights," he wrote. "I'm grateful to all of the ppl I meet + hear from who recognize that I would never say something to offend my friends in the gay community."

It's not the first time Baldwin has used a gay or racial slur in one of his tirades.

Earlier this year he called a black photograher a "c**n," a "drug dealer" and a "crackhead" (the guy was a retired NYPD detective) during a confrontation; and then he went off on another homophobic tirade against a journalist for London's Daily Mail who speculated that his wife had been tweeting during the funeral for actor James Gandolfini in June.

Baldwin was also involved in another altercation with a photographer in August; and last year he was accused of hitting a snapper.