Alec Baldwin Jokes About Plane Incident On 'SNL' (Video)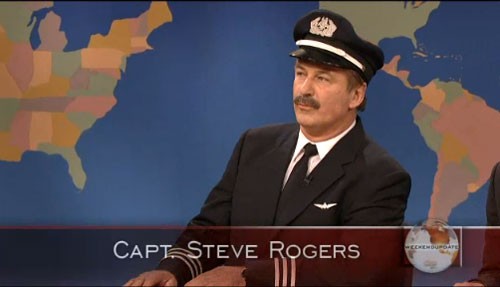 Alec Baldwin has laughed off his removal from an American Airlines flight this week by parodying the incident on "Saturday Night Live."
 
The "30 Rock" funnyman was ordered off the New York-bound plane at the request of the pilot after he refused to stop playing a word game on his cell phone while the aircraft was preparing for take-off at Los Angeles International Airport.
 
Baldwin subsequently apologized to fellow passengers for delaying their journey, and Saturday night he joked about the incident in a sketch on "Saturday Night Live."
 
The actor dressed up as an American Airlines pilot and issued an apology to himself, telling host Seth Meyers, "Alec Baldwin is American treasure, and I am ashamed at the way he was treated. I mean, what harm would it do to let him keep playing his game, and not any game mind you... but a word game for smart people... How dare we speak ill of the great Alec Baldwin and we can't even take off on time."