Alec Baldwin Isn't Fooling Anyone In His Ghost Costume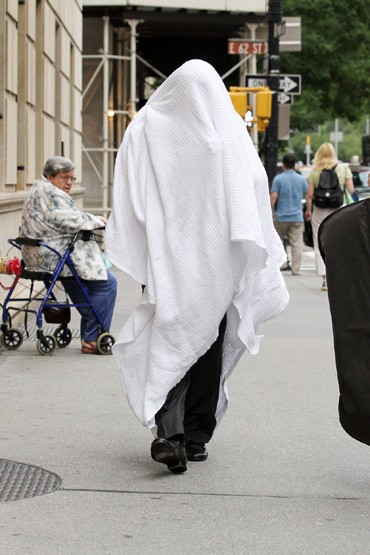 "30 Rock" star Alec Baldwin went to interesting lengths to avoid being photographed in New York City yesterday. He pulled a sheet over himself and looked like a ghost. We wonder if the lady in the rolling walker behind him was fooled by his disguise?
The actor was hiding his face after an altercation earlier in the day with New York Daily News photographer Marcus Santos. The paparazzo claims Baldwin attacked him after the actor left a New York courthouse. Baldwin had just obtained a marriage license.
Following the incident, Santos filed an official report of criminal assault with the NYPD, who have opened an investigation. Santos claims he was struck in the chin and had a headache and experienced dizziness after the incident.
In response, the actor tweeted, "A "photographer" almost hit me in the face with his camera this morning. ‪#allpaparazzishouldbewaterboarded." Later he posted, "I suppose if the offending paparazzi was wearing a hoodie and I shot him, it would all blow over..."
Below is a shot of Baldwin's assistant handing him a garment bag.