Alec Baldwin Donates $250,000 To NY Library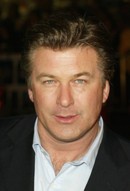 Actor Alec Baldwin has donated $250,000 to his local New York library.

The funnyman recently shot a number of TV adverts for Capitol One Bank and now he is donating his entire pay check to the East Hampton Library so the organization can expand its children's wing.

The proceeds will also be used to fund new computers and seating and help make the library handicapped accessible.

Library director Dennis Fabiszak tells BroadwayWorld.com, "We greatly appreciate this generous donation for the library's Children's Addition, which will enable us in our ongoing mission to continue to provide outstanding library services to the East Hampton community."

The 30 Rock star has been a longtime supporter of the cause - last year he donated $25,000 to the library for various improvements.