Album Review: Maroon 5, 'Overexposed'
One has to admire the sharp wit that's evident in Maroon 5 naming their new album Overexposed. Even better, though, is that their fourth studio album reminds us of what makes them so good: reinventing themselves over and over again without a decline in quality.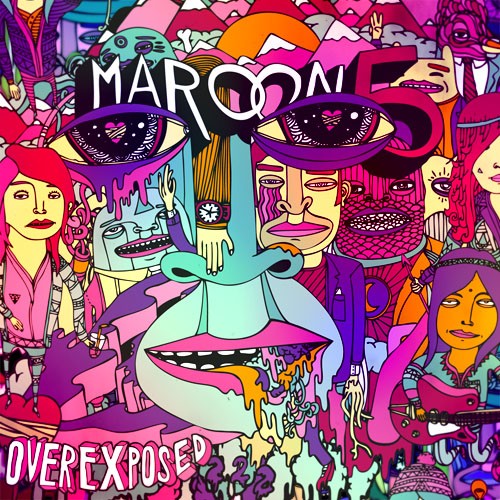 If you must, categorize them as a pop-rock band, but the Los Angeles rockers have employed so many different sounds over the course of four studio albums - and successfully so - that to classify them feels like a disservice. Overexposed is another diverse outing, with the reggae-infused lead track "One More Night" sounding different from the funky "Ladykiller" and the earnest "Love Somebody."
There's even an oddly country-sounding cover of Prince's "Kiss" at the end that goes on for more than seven minutes, five of it devoted to guitars. (This should surprise no one who remembers the version of "Sweetest Goodbye" that went on for more than eight for the same reason.)
This is another record where Maroon 5 isn't afraid to color outside the lines, and frontman Adam Levine, guitarists James Valentine and Mickey Madden, drummer Matt Flynn and keyboardist PJ Morton (standing in for Jesse Carmichael) are obviously enjoying themselves doing it. There's a certain high energy that comes across in listening to the album, and every song sinks its teeth into you somehow, whether it's a phrase in the lyrics, a guitar riff or just the beat of the tune. "The Man Who Never Lied" is a track that deserves repeated listenings, with a certain heartbreak to it underneath the pop sound.
Levine remains one of the best vocalists singing today. There's no one else that sounds like him, and you'd be hard-pressed to find someone who is both so versatile and also remarkably clear in his delivery. (I have never misheard the lyrics to any Maroon 5 song.) It seems as if we spend so much time discussing his looks or TV fame that we don't always give him due credit for his actual talent.
Yet it would also be a disservice not to remember that he's backed by four very talented musicians. While there's a definite difference between Morton's keys as compared to Carmichael's, one couldn't ask for a better substitute - he's been playing with the band even before Carmichael's hiatus - and Valentine is a truly astounding guitarist. While Levine may get the lion's share of public attention, this is a solid group of gentlemen behind him, and they're also on their game here.
There are a few things here that don't fit, like the distracting background vocals on "Tickets" and the jarring nonsensical sounds in the opening and background of "Wipe Your Eyes," but they're minor issues with an album that is bound to get at least one song other than "Payphone" stuck in your head.
If there's one significant flaw in the album, it's that it's almost too good. While it has plenty of catchy beats and lyrical hooks that should make it great for radio airplay, it could have benefited from some quieter tracks in the vein of "Just A Feeling" or "How" from the band's previous CD, Hands All Over. Levine is at his most affecting when the unique sound of his voice can be truly appreciated with those more vulnerable songs, but aside from the simply titled "Sad" that side of the band is missing in action. Let's hope it makes a comeback on album number five.
Regardless, Overexposed is a fun, fresh album worth plenty of summer play. It's just a shame that the band won't tour in North America until at least the winter of 2012 due to Levine's commitment to The Voice, because this is material that should make for a party when played live. At least, as a fan of the band, I set my standards for Overexposed very high, and now that I've heard it, I can't get the smile off my face.
You can order your own copy of Overexposed by using this link.
For more from Brittany Frederick, visit my Starpulse writer page and follow me on Twitter (@tvbrittanyf).
(c)2012 Brittany Frederick/Digital Airwaves. Appears at Starpulse with permission. All rights reserved. No reproduction permitted.