Alanna Ubach Helps The Hub Launch 'Dog Days of Summer'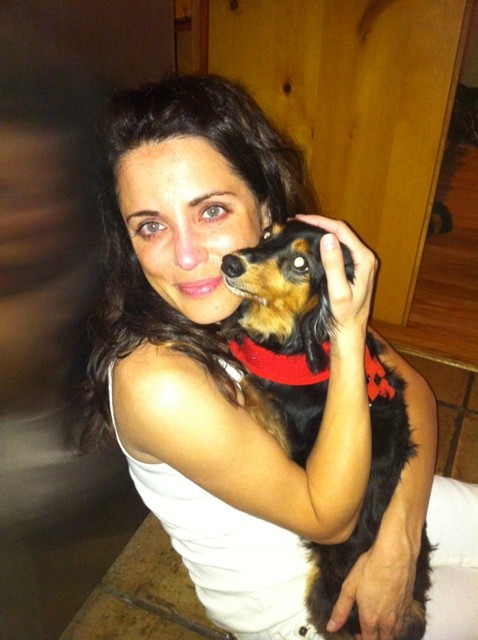 We've all heard the expression "Dog Days of Summer," but on The Hub, it means something different. Starting today, the network is launching a week of canine-themed programming, as well as raising awareness for shelter dogs.
Actress Alanna Ubach, who lends her voice to Strudel on the network's Pound Puppies, is one of the people helping The Hub launch the Dog Days of Summer, and she recently stopped by to chat about the show as well as her own passion for pups.
Alanna is a proud mom to Lucy (pictured here with Alanna) and Stewie, who is a rescue dog. "My boyfriend had the pleasure of meeting him at a vet hospital in Ohio," she said. "Stewie was found on the streets in Ohio and was taken to this hospital, and my boyfriend immediately fell in love with him."
With two adorable dogs at home, that does make it just a tad amusing that Alanna voices one on TV, but she loves voice work. "It's amazing," she told me. "The biggest reason you act is because you want to be different than yourself, so for me this is probably my favorite medium because it just allows you to really be as creative as possible with your voice, while you're playing something that's completely and totally not you."
On Pound Puppies, she's working with a cast that's comprised of both veteran voice actors and a few familiar faces from TV, including John DiMaggio (the voice of Bender on Futurama), Cree Summer (the voice of Penny from Inspector Gadget), Eric McCormack (currently starring in TNT's Perception), and Yvette Nicole Brown (NBC's Community).
"Voice-over actors are like Canadians," she said of working with her colleagues. "I've never met one I didn't like and fall in love with. You're being a child all over again. It's like those crank calls you used to make as a kid. All of us are big little kids."
Like some of her colleagues, Alanna is still an on-screen actress as well as a voice actress. She'll be back in front of the camera for the new Nick at Nite series "See Dad Run," which premieres October 6 at 8 PM. Alanna plays the wife of actor David Hobbs, who becomes a stay-at-home dad when she decides to resume her own television career.
"It's a family show and I play a mother of three," she explained. "I'm this soap opera actress and my husband is played by Scott Baio." The show is the first original live-action comedy for Nick at Nite, and also co-stars Mark Curry (Hangin' With Mr. Cooper).
One of her most memorable, if much smaller, roles came way back in 2000, when she appeared in one of the final episodes of Aaron Sorkin's critically acclaimed and criminally underrated Sports Night. The episode "Bells and a Siren" featured Alanna as Catherine Brenner, the publicist who got on Dan's (Josh Charles) nerves. Her role was one of the highlights of that episode, and Alanna would go on to land a second guest part on Sorkin's The West Wing.
"It was so much fun," she told me of the experience working on Sports Night. "And I had no idea what it took to act to Sorkin. I had to get coaching for that, because I had no idea. Sorkin's like manic. You can't get any of the lines of the dialogue wrong. You have to know it verbatim or it doesn't work. That's not usually the case in most shows."
Having had success as an on-camera actress and also in voice acting, she is in no hurry to define her career. "Whatever comes my way I will work on," she said. "I want to try and play as many characters that are unlike myself until the day I die. Character roles are a lot more abundant for women. It's always about the writing and who you're going to be working with and learning from."
That latter part is particularly important to her. "I'm a big responder [to] kindness," she added. "The most well-known, well-received, award-winning actors tend to be the nicest. I speak from experience. The more well-known they are, it just so happens that the cooler they are. Dustin Hoffman may have been the sweetest person I've ever worked with, hands down."
With a big heart of her own and a wonderfully outgoing personality, Alanna is incredibly sweet in her own right, and the perfect person to represent The Hub for this great cause.
You can learn more about The Hub's Dog Days of Summer by visiting the network's website. You can also follow Alanna on Twitter (@alannaubach), and be sure to tune in for today's Pound Puppies marathon from 9-11 AM ET, which concludes with a brand new episode.
For more from Brittany Frederick, visit my Starpulse writer page and follow me on Twitter (@tvbrittanyf).
(c)2012 Brittany Frederick/Digital Airwaves. Appears at Starpulse with permission. All rights reserved. No reproduction permitted.