Alan Menken Walks Us Through The Music Of Disney's 'Tangled'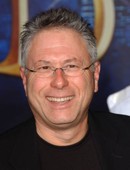 This holiday weekend, Disney releases their 50th animated film, Tangled. Another musical based on a fairy tale, this retelling of Rapunzel features more catchy music by Alan Menken, the composer behind Beauty and the Beast, Aladdin, The Little Mermaid and Enchanted.
Mandy Moore provides the voice of Rapunzel and sings many songs. Her opening number is in a familiar pop rock style. "Yes, we're going after a Chelsea Morning, Joni Mitchell kind of song," Menken said. "On a gut level I really felt that the first time we meet Rapunzel, I wanted it to be just this bright burst of guitar and energy so I thought about Joni."
The song may suit Moore's rock n' roll strengths, but Menken wasn't thinking of pop stars when he wrote it. "Mandy came on after that song was written. The first recordings of that song were actually done by my daughter Ana Rose who has her first album out now with her band. Ana was the model vocally for what we were doing."
Rapunzel sings a song to ignite the magic of her hair. "That went through a lot of incarnations. It was always conceived as an incantation. It's the idea that that particular song is imbued with a certain power because it was sung with Mother Gothel all those years."
You'll only hear a few lines from that song in the final film. "It was written. No one's heard it. We never recorded the full song so it won't be on an album but it was a nice song."
For variety, there's even an accordion number. "I actually wanted that song to be kind of like Mighty Wind. I always got a kick out of making fun of The Kingston Trio, especially among these thugs. It's kind of like Mighty Wind set in a medieval dungeon."
Menken has been a staple at Disney since his collaborations with lyricist Howard Ashman. Ashman is no longer with us, but Menken still lends a distinct style to his film music.
"I'm very emotional so my songs will tend to be very heartfelt. I'm not afraid of simplicity so yeah, I think there are certain characteristics you would say are Alan Menken characteristics. As far as harmonic choices, that's probably something a musicologist would be better off discussing than me."
Tangled is now playing.