Alan Cumming Lands Voiceover Role On 'Dora The Explorer'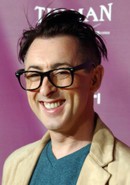 Scottish actor Alan Cumming is has landed a cameo role on hit children's cartoon series Dora the Explorer.

The X2 star was recently invited to lend his talents to the popular Nickelodeon TV franchise and Cumming tested out his talents during a voiceover session on Wednesday morning, although he has yet to share details about his animated character with fans.

In a Twitter.com post, he writes, "I did it! Voiced a Dora the Explorer episode, even sang a song!"

Cumming's debut on Dora The Explorer will air later this year.