Alan Alda And Norman Lear Honored At 40th International Emmy Awards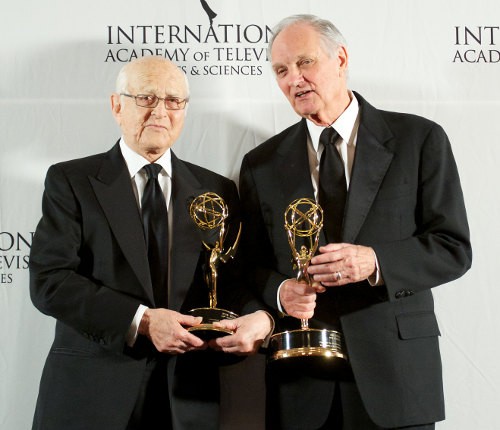 Veteran actor Alan Alda and TV producer Norman Lear were honored at the 40th International Emmy Awards in New York on Monday.

M*A*S*H star Alda and Lear each received a Special Founders Award from the International Academy of Television Arts & Sciences at the star-studded ceremony, hosted by retired talk show host Regis Philbin at the Hilton Hotel in Manhattan.

Lear, best known as creator of hit 1970s TV show All In The Family, said in his acceptance speech, "The world will, and needs to, come together through the arts."

Alda paid tribute to "the men and women in the hospital tents," referring to real-life medical personnel who risk their safety to treat war-time casualties, who he noted usually go unmentioned at award shows.

Glee creator Ryan Murphy was presented with the International Founders Award by Jessica Lange, the star of his hit TV series American Horror Story.

British novelist Terry Pratchett was awarded the Best Documentary nod for his controversial program about the process of assisted death, Terry Pratchett: Choosing To Die.

Presenters at the ceremony included actors Victor Garber, Donnie Wahlberg and Cheyenne Jackson.