AJ Lambert To Release Debut Disc, 'EP'

Singer/songwriter/music supervisor and bassist of New York City band Looker,
AJ Lambert
is set to release her debut solo recording, simply entitled
EP
.
The recording will be released through digital platforms including iTunes, Napster, and Rhapsody. The film can be viewed at YouTube.
EP
is Lambert's first solo recording and film directorial debut. The recording is envisioned as a two-sided endeavor, side one is the 5 songs and side two is the 10-minute film.
The project was conceived during a period of transition in her life when Lambert was in the middle of a move, with all of her instruments packed and in storage. "I was going through a major personal upheaval that reached into every aspect of my life," said Lambert. "One of the effects of it was that I found myself with more to write about than I ever had before - but I also found myself between homes of my own and I had no instruments to write music with."
Throughout the course of the year Lambert would record and mix, in her apartment and in proper studios, writing the songs she had come to know in her head. The outcome is the five songs and short film featured on
EP
.
Lambert conceived of the 10 minute film as track 6 of the recording. The film features David Sullivan of 2004's
Primer
. It is about a woman who has a birthday party and greets all the people who know her, though she doesn't know them. The one man she recognizes is somehow intensely connected to her, but she doesn't know how. She wakes from this dream in a panic, because she wants to keep dreaming.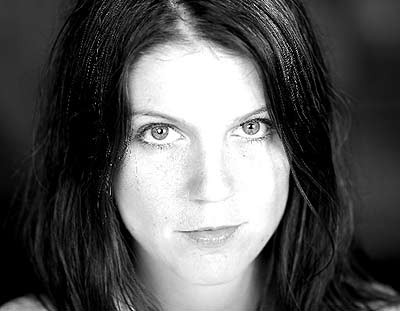 The daughter of
Nancy Sinatra
and granddaughter of
Frank Sinatra
, AJ started her musical career as a founding member of the Los Angeles-based band Sleepington. Lambert also played bass in the group Rocket, which featured Murph of
Dinosaur Jr
.
AJ then took a few years to embrace her familial roots and lived life as a jazz singer in Hoboken, New Jersey. She produced her mother Nancy Sinatra's
self-titled 2004 record
, co-writing the song, 'Bossman'. Nancy and AJ performed it together as part of a guest stint on
The Sopranos
, during the show's final season.
Like many artists before her, AJ Lambert has been influenced by the jazz vocals of her grandfather and the 60s pop of her mother. With her new solo recording
EP
, AJ is able to step out and, in her words, "create something unique to me, not something similar to anything anyone in my family has done before".
Watch AJ Lambert's film, "EP -Side 2"