AJ Johnson Opens Up About 'Chicagolicious'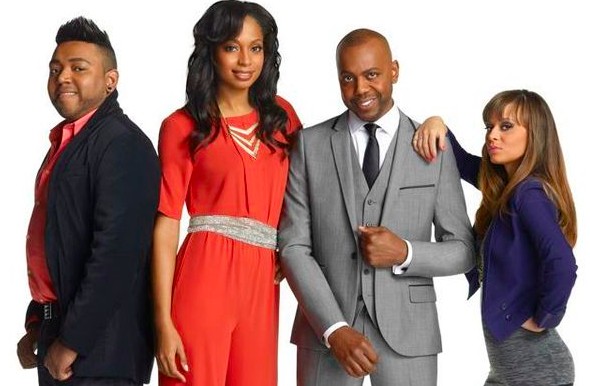 Starpulse chatted with Chicagolicious star AJ Johnson and talked to him about his salon, reality show, and what he is working on now. AJ is the owner of AJ's Salon in Chicago, which is featured in Style Network's new reality TV show. AJ does hair for the likes of supermodel Iman, Jennifer Hudson, and Angela Bassett, to name a few. Check out the interview below:
SP: Can you begin by telling us a little bit about Chicagolicious?
AJ Johnson: It's a reality show based here in Chicago. I own a salon here in the River West area. It's a very diverse staff and clientele. We do all type of hair and it's a team of eight people that you will see on the show. 
SP: What made you decide to make your salon the set for a new reality show?
AJ: I was always told 'oh you guys have such big personalities, you should have a TV show,' even before reality shows existed. I love being on TV, I love being in the spotlight and the team that I have, they all have big personalities, they were all hand chosen by myself and it's just entertaining. The clients will come in to get their hair done and they will just want to linger around because it's so entertaining and it's such a good feeling and I always make them look good and make them feel good. So if I can do this for millions of viewers, then I'm good with it.
SP: How does Chicagolicious compare to Jerseylicious?
AJ: Oh it's totally different from Jerseylicious; it's like apples and oranges. The similarities are: we are a salon and the names are somewhat similar: -licious. But we are a little bit more sophisticated. Chicago is very classy and we are very diverse. It isn't just Italian people. We have Italian people, Black people, Jewish people, white people, and Hispanic people. We are just more sophisticated and stylish. That's just how Chicago is, we are more conservative.
SP: What can we expect to see in the upcoming season?
AJ: You will be able to see drama, excitement; you will get to see life changing moments for some of my team members. You will get to see love interests breaking up, love interests starting. You will see my brand growing and going national.
SP: How has your business grown just in the couple weeks since Chicagolicious premiered?
AJ: It has grown at least 60% just from that premiere episode. Before it was about two weeks to get in with me, now it is like two months. I am still filming and working and juggling everything. I have cameras follow me around in my house, I'm doing a lot of social events, I am doing a lot of fashion shows, going to a lot of galas and you will see all that in the show. You are going to see how we are going to highlight Chicago and show you how amazing Chicago is. A lot of people think that because we are the Midwest, that we are not out there, but we are right there between L.A. and New York, so that is what I want people to see, all the great restaurants, all the great culture, all the great events that we do here and that's another thing that we are going to highlight in the show.
SP: Do you ever experience problems with mixing drama of your employees and your business?
AJ: No because I am like the enhancer; I am the father, I'm their uncle, I'm their boyfriend, their husband, their spouse, I'm all of that. With all of these personalities, there is going to come some conflict, just like in any family. But everything is nothing that I can't handle. We have our little personal things, but when it is all said and done, I can handle that.
Watch AJ and the rest of the cast of Chicagolicious on Monday nights at 9/8c on Style.