After Nearly 10 Years Of Waiting, The Beatles Are Finally On iTunes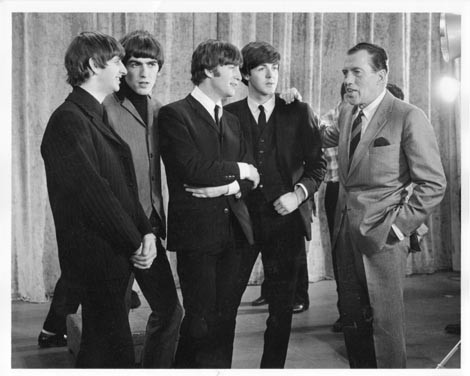 Apple Corps, EMI and Apple today announced that the Beatles, the most influential and beloved rock band in music history, are now available for the first time on the iTunes Store. Starting today, the group's 13 legendary remastered studio albums with iTunes LPs, the two-volume "Past Masters" compilation and the classic "Red" and "Blue" collections are available for purchase and download on iTunes worldwide as either albums or individual songs. Fans can also get a special digital "Beatles Box Set" featuring the "Live at the Washington Coliseum, 1964" concert film, a worldwide iTunes exclusive which captures the Beatles' very first US concert.

"We're really excited to bring the Beatles' music to iTunes," said Sir Paul McCartney. "It's fantastic to see the songs we originally released on vinyl receive as much love in the digital world as they did the first time around."

"I am particularly glad to no longer be asked when the Beatles are coming to iTunes," said Ringo Starr. "At last, if you want it- you can get it now- The Beatles from Liverpool to now! Peace and Love, Ringo."

"We love the Beatles and are honored and thrilled to welcome them to iTunes," said Steve Jobs, Apple's CEO. "It has been a long and winding road to get here. Thanks to the Beatles and EMI, we are now realizing a dream we've had since we launched iTunes ten years ago."

"In the joyful spirit of 'Give Peace A Chance,' I think it is so appropriate that we are doing this on John's 70th birthday year," said Yoko Ono Lennon.

"The Beatles on iTunes-Bravo!" said Olivia Harrison.

"The Beatles and iTunes have both been true innovators in their fields," said EMI Group CEO Roger Faxon. "It's a privilege for everybody at EMI to work with Steve Jobs and with Apple Corps' Jeff Jones and their teams in marking a great milestone in the development of digital music."

Each of the Beatles' 13 legendary remastered studio albums, including "Sgt. Pepper's Lonely Hearts Club Band," "Revolver," "The Beatles [The White Album]" and "Abbey Road" include iTunes LPs, which create an immersive album experience with a beautiful design and expanded visual features including a unique mini-documentary about the creation of each album. The two-volume "Past Masters" compilation and the classic "Red" and "Blue" collections are also available.

Single albums are available for purchase and download for $12.99 each, double albums for $19.99 each and individual songs for $1.29 each.

The special digital "Beatles Box Set" ($149) contains the 13 remastered studio albums with iTunes LPs and all mini-documentaries, "Past Masters," and the "Live at the Washington Coliseum, 1964" concert film, a worldwide iTunes exclusive which captures the Beatles' very first US concert in its entirety. In addition, Beatles fans can stream and view the "Live at the Washington Coliseum, 1964" concert film from iTunes for free for the remainder of this calendar year.

Apple Corps Ltd. was founded by The Beatles in 1968 to look after the group's own affairs. The London-based company has administered the catalogue of The Beatles releases of the 1960s that have sold to date more than 600 million records, tapes and CDs. Since the 1990s, Apple has piloted new Beatles projects that have become benchmarks for pioneering accomplishment and which have included The Beatles Anthology projects, the 29-million selling album The Beatles 1, The Beatles LOVE show and CD and the 09/09/09 release of The Beatles Remastered catalogue and The Beatles Rock Band game. Further information on The Beatles' projects can be found at www.thebeatles.com.

EMI Music is one of the world's leading music companies, representing artists spanning all musical tastes and genres. Its record labels include Angel, Astralwerks, Blue Note, Capitol, Capitol Latin, Capitol Nashville, EMI Classics, EMI CMG, EMI Records, EMI Records Nashville, Manhattan, Parlophone and Virgin.

Apple designs Macs, the best personal computers in the world, along with OS X, iLife, iWork, and professional software. Apple leads the digital music revolution with its iPods and iTunes online store. Apple is reinventing the mobile phone with its revolutionary iPhone and App Store, and has recently introduced its magical iPad which is defining the future of mobile media and computing devices.

Visit The Beatles iTunes homepage.
Visit The Beatles official site
Click for more great Beatles pictures:
Our pals hooked us up with these, check 'em all out!
Don't you hate when Playboy puts someone on the cover and they're not naked inside? (The Frisky)
Natalie Portman wants to be the next Judd Apatow (PopEater)
Forget 'Talk Like A Pirate Day,' there's a 'National Sex Toy Day' (Lemondrop)
Jessica Simpson isn't worried about losing half her fortune in a few years when her new husband bails on her (Celebuzz)
All access to UFC All Acces host Rachelle Leah (pics too hot to show!) (Maxim)
No matter how old they are, boys will always be boys - especially when there's cleavage around (Buzzfeed)


Links from all over the web, right here on Starpulse!