AFI To Split? Management Insist Singer Davey Havok's Statement Is A Hoax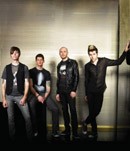 Mystery surrounds the future of rockers AFI after the band's management denied reports of a split just hours after frontman Davey Havok announced the break-up online.

Havok took to the band's Despairfaction forum to let fans know the group was splitting.

The "Miss Murder" singer's written statement read, "This is the end. Sorry, but AFI is done. After more than 15 years of being together, we as a band have decided to disband AFI... There will be no more AFI albums or shows.

"We have matured and have other things in life that we would like to attend to. Please forgive us for the random statement but it was something we were thinking of for a while."

Havok then indicated a more detailed explanation was to come.

But the band's management insist the statement was a hoax and AFI have no immediate plans to split.