AFI To Count Down The 100 Greatest Movies Of All Time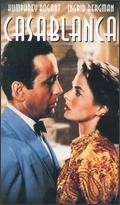 American Film Institute (AFI) today announced the 10th annual installment of its Emmy Award-winning "AFI's 100 Years..." series. "AFI's 100 Years...100 Movies -- 10th Anniversary Edition" will count down the 100 greatest movies of all time in a three-hour television event on CBS in June.
The program will consider classic favorites and newly eligible films released from 1996 to 2006. AFI will undertake this program every 10 years to mark changing cultural perspectives.
"AFI has created the most comprehensive and credible examination of excellence in American film with the AFI's 100 Years... series," said AFI President and CEO Jean Picker Firstenberg. "And, whether you agree with these lists or not, they have sparked a 10-year conversation on what makes a great movie and why. We are excited to ignite this conversation once again, this year and every 10 to come. Let the debate begin!"
Since its inception, the AFI program has garnered considerable attention and included AFI's 100 Years...100 Movies (1998), 100 Stars (1999), 100 Laughs (2000), 100 Thrills (2001), 100 Passions (2002), 100 Heroes & Villains (2003), 100 Songs (2004), 100 Movie Quotes (2005) and 100 Cheers (2006).
AFI asks jurors to consider the following criteria in their selection process:
FEATURE-LENGTH FICTION FILM
Narrative format, typically over 60 minutes in length.
AMERICAN FILM
Motion picture with significant creative and/or production elements from
the United States.
CRITICAL RECOGNITION
Formal commendation in print, television and digital media.
MAJOR AWARD WINNER
Recognition from competitive events including awards from peer groups,
critics, guilds and major film festivals.
POPULARITY OVER TIME
Including success at the box office, television and cable airings, and
DVD/VHS sales and rentals.
HISTORICAL SIGNIFICANCE
A film's mark on the history of the moving image through visionary
narrative devices, technical innovation or other groundbreaking
achievements.
CULTURAL IMPACT
A film's mark on American society in matters of style and substance.
AFI allows five write-in votes per ballot.
Interesting Facts About the Ballot:
* All of the 100 honored films from the original AFI's 100 Years...100
Movies list appear on the ballot.
*
Henry Fonda
is the most represented male actor with 10 films.
James
Stewart
and
Cary Grant
each have nine, while
Robert De Niro
and
Jack
Nicholson
have eight.
*
Katharine Hepburn
is the most represented female actor with seven
films.
Lillian Gish
and
Bette Davis
each have five.
* 1939 and 1942 are the most represented years with 11 films each.
*
Alfred Hitchcock
and
William Wyler
are the most represented directors
with 10 films each.
Steven Spielberg
and
Howard Hawks
are represented
with eight films each, and Billy Wilder and George Stevens have seven.
* Ernst Lehman is the most represented screenwriter with six films.
* The ballot includes entries that span
from 1915 to 2005.
* About 11 percent of the ballot (44 films) comes from the last 10 years,
newly eligible since the original AFI's 100 Years...100 Movies.