Aerosmith, Dropkick Murphys, Others Perform At Boston Strong Benefit Concert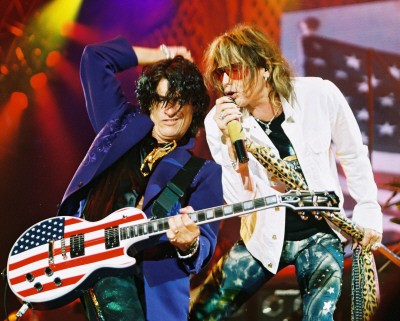 Aerosmith, Carole King, New Kids on the Block, Dropkick Murphys, and many more took the stage Thursday night to raise money to benefit the victims of the Boston Marathon bombing.
The Boston Strong: An Evening of Support and Celebration event at a sold-out TD Garden in Boston lasted an astonishing 5 1/2 hours, starting at the national anthem and ending with a group rendition of the Beatles' "Come Together" and Boston anthem "Dirty Water."
Joey McIntyre shared his story from the Boston Marathon - the New Kids on the Block star had finished the race 10 minutes before the bombs went off. He said, "I finished at 3:57, just before it happened. I happened to be on a bench in Copley Plaza, Copley Square but I don't care where you were that day, because this happened to all of us."
Fellow NKOTB star Donnie Wahlberg said, "You deserve the credit. Anyone can celebrate in times of glory... but when something unspeakable happens, that's not just when cities come together but it is when families come together. We are not just one of the greatest cities on Earth; we are one of the greatest families on this planet."
The Dropkick Murphys were introduced by former New England Patriots player Joe Andruzzi, who helped carry injured victims from the blast zones. Andruzzi's three brothers are all firemen in New York and were first responders on 9/11.
Several victims of the tragedy took the stage to thank the audience and the stars for their support. There were several somber moments during the otherwise high-energy show, including an emotional performance of "Sweet Baby James" by James Taylor and Carole King.
Proceeds from the show will go towards The One Fund Boston. The organization plans to release the amount of money raised by the show next week.