Adult Film Star Claims He Had A Threesome With Kim Kardashian In 2001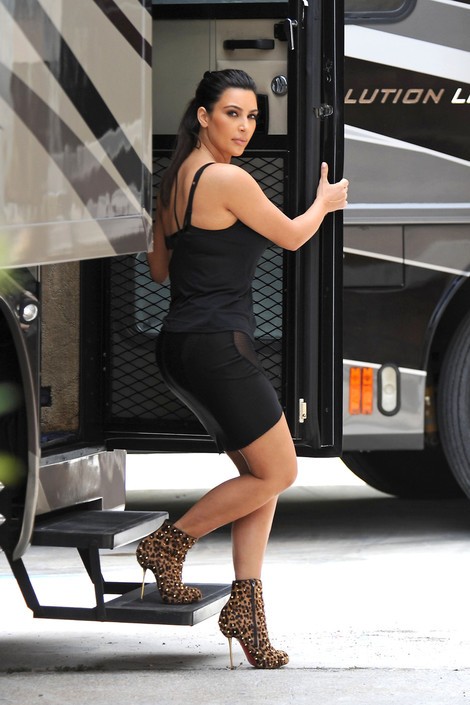 Kim Kardashian always seems to be surrounded by some sort of controversy, and this time she's found herself at the center of yet another one, and this time it may be something from her past coming back to haunt her.

The Keeping Up With the Kardashians star has been called out by an adult film star who claims he had a threesome with her and another woman way back in 2001.

Porn star Julian St. Jox claims he hooked up with a 20-year-old Kim at a swinger's party in September 2001, according to the new issue of Star magazine.

St. Jox claims that Kim showed up to the Wyndham Hotel in Culver City, Calif. with "a black male" and "was wearing a tight miniskirt and tank top and designer shoes and bag."
"From afar she looked gorgeous," he tells Star. "She had a great body and seemed bright … [there was] something special about her: a je ne sais quoi."

Fellow adult star Emily Ann, who was with St. Jox at the event -- a swinger's party -- reportedly took a liking to Kim immediately. St. Jox says the two dirty danced for a while before inviting Kim and her date (Kim was married to music producer Damon Thomas at the time, but it's unclear if he was the man with her) back to his room, where an orgy was in progress when they arrived.

"They seemed to like what they saw, entered the room, made a drink, and sat in the corner watching other couples have sex. Then they found a spot and had sex together," St. Jox says, according to the New York Post.

Afterward, St. Jox claims that Emily Ann and Kim began fooling around together and he soon joined them (no word on what, if anything, Kim's date was doing at the time).

"[She] looked like she was enjoying herself very much," St. Jox says. "She was a little submissive, but she was good. She knew what she was doing."

"She was very responsive to me," he adds.

The hookup was confirmed by a second source; however Kim has denied the story.

One of her representatives told London's Daily Mail that the story is "absure and not true."

Two years after the reported tryst, Kim filmed a sex tape with boyfriend (at the time) Ray J. The tape was leaked four years later, making her a household name.