Adrien Brody On His Woody Allen Cameo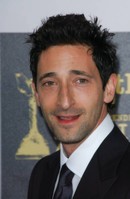 Adrien Brody is going to be spending his summer working with Woody Allen. He's joined the cast of Allen's Midnight in Paris with Rachel McAdams, Marion Cotillard, Kathy Bates and Owen Wilson. It's just a small part though.
"It's a cameo," Brody said. "It'll be a lot of fun and it will be a chance to reunite with Owen. Not bad. Pretty good way to spend the summer. It's not the whole summer. I wish it was the whole summer."
The Oscar winning Brody didn't have to audition per se, but he still had to impress Allen. It wasn't just a cold offer. "No, I wish things were that easy. No, we met, took a meeting."
Allen is famous for deciding on gut instinct whether or not an actor gets the part. The actor, however, doesn't find out until later. "Well, you may not know you have the part but he may have made that decision. He doesn't linger on those decisions I think but I'm pretty right for this I think."
Midnight in Paris is filming this summer for release next year. This year, Allen will release You Will Meet a Tall Dark Stranger.