Adrianne Curry 'Molested' At Star Wars Convention

Former America's Next Top Model winner Adrianne Curry endured a nightmare end to her weekend after accusing a "drunk pervert" of molesting her at a Star Wars convention in Orlando, Florida.

The brunette beauty, a self-confessed fan of the sci-fi franchise, was among the hundreds of devotees who flocked to the Star Wars Celebration V event on Saturday, where creator George Lucas unveiled a never-before-seen clip from Star Wars: Episode VI Return of the Jedi.

However Curry, who attended in a skimpy costume, claims her celebrations came to an abrupt end after an unknown man reached up her skirt and groped her outside the convention's venue. Curry reported the alleged molestation to police in the early hours of Sunday and officers arrived on the scene at around 3am, according to TMZ.com.

In the official police report, obtained by TMZ.com, the cop claims he "came in contact with the male as he lay in the bushes at the entrance to the hotel."  He was also alleged to have attempted to start fights with other people waiting outside the convention and he was later arrested for disorderly intoxication.

Nevertheless, Curry was left reeling from the incident. Taking to her Twitter.com page, she writes, "cops are here..molesting pervert drunk in the back of their car...going to bed ... i cannot believe last night happened....love starwars...but ready to leave."

The 28 year old won the first season of Tyra Banks' hit TV model search in 2003 and she is married to The Brady Bunch actor Christopher Knight.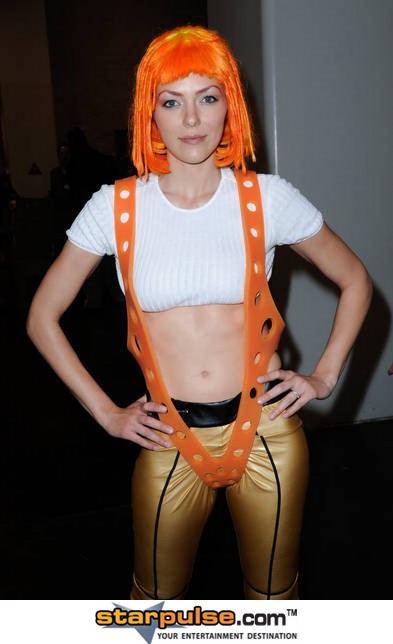 Click Here For More Adrianne Curry Pictures