Adriana Lima Sizzles In Teleflora's Early Super Bowl Commercial (Watch All The Early Ads Here!)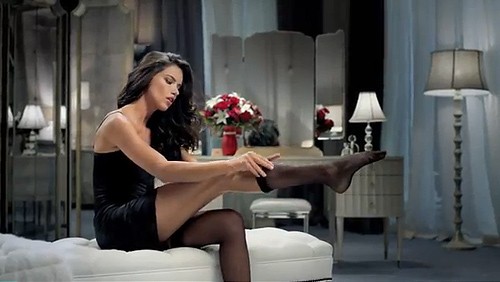 Supermodel Adriana Lima is set to heat things up on Sunday in two new, and totally unrelated, Super Bowl commercials.

The first, for online florist Teleflora, features the Victoria's Secret model seducing viewers while putting on lingerie, and reminding guys that flowers are a simple and important aspect of the upcoming Valentine's Day holiday.

As if the sexy scenes of Adriana primping for a sexy evening weren't enough to get the blood flowing, she promises, "Guys, Valentine's Day's not that complicated... Give... And you shall receive."

We're not 100% sure what she's talking about - but we like it!

The Brazilian bombshell also stars in a more humorous ad for the 2012 Kia Optima that features UFC fighter Chuck Liddell, Mötley Crüe, hundreds of bikini clad women and... a cowboy riding a rhinoceros.

If you haven't had a chance to check out any of the other early Super Bowl ads that were released this week, we've got them all below. Check 'em out!
Matthew Broderick reprises his classic 80s character Ferris Bueller in a great ad for the 2012 Honda CR-V that packs over two dozen memorable references from the film into just over two minutes; only Matthew plays himself in this ad, skipping out on a day of work. See if you can spot them all...
Soccer stud David Beckham Soccer strips down to his skivvies in this new ad for Bodywear for H&M Collection, giving all the ladies forced into watching the big game some eye candy for a fleeting moment. This one airs during the second quarter, for those who want to see it on their 55" Plasma screen.
Vampires... sick of 'em yet? Well Audi is - adn their new Vampire Party ad for the 2013 Audi S7, which features some pretty powerful new headlights, promises to slay...
Marvel's next big comic-book movie, The Avengers, hits theaters this spring, and a second trailer for the film will premiere during the Super Bowl. The first trailer debuted in September (see it here), and now Marvel was kind enough to release another 10 seconds of footage to get fans ready for another epic promo during the game.
Pepsi, which always features some of the top music acts in its Super Bowl ads (Britney, Michael Jackson), once again assumes that everyone who listens to pop music also has an affinity for drinking cola. This time around they've recruited Sir Elton John and have obviously teamed up with Fox (the game is on NBC) and Simon Cowell in a bid to get Melanie Amaro, who won the first season of The X Factor, some recognition. After all, the show's ratings tanked and more people still remember who won the last season of American Idol. Ironically, the game's on NBC, who will be kicking off the second season of their music talent show, The Voice, after the lights go down in Indianapolis. Amaro does a fine job covering Queen of Soul Aretha Franklin's "Respect," but let's face it - there are certain songs you just do. not. cover.
Super Bowl XLVI kickoff is scheduled for 6:31pm Sunday, and we'll be posting all the (best) commercials from the big game on Monday.



Check out the best commercials from last year's Super Bowl

See the best and worst halftime shows from Super Bowls past here.