Adele's Music Among The Best Of British Showcase At Olympics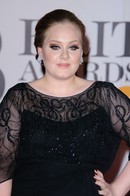 Adele is set for another major honor - her music will feature as part of a best of British spectacular at the closing ceremony of the summer Olympics in London.

Executive producer of the opening and closing ceremonies Stephen Daldry and music director David Arnold have confirmed the music of the double Brits winner and multiple Grammy Awards victor will feature in the A Symphony of British Music show on August 12.

Arnold says, "We go from (classical composer) Elgar to Adele."

Details of who will be performing live at the closing ceremony are still under wraps, but more than 3,500 dancers and artists are expected to be part of the spectacular.

The news comes on the same day Adele was applauded by top U.K. politicians at the House of Commons.

Conservative Member of Parliament Therese Coffey told the house, "I'm sure that you will be aware of the government's efforts to promote exports... Will you join me in congratulating (Adele) in winning the Grammys."