Adele's Early Days Involved Rock Jams With Noisettes Singer Shingai Shoniwa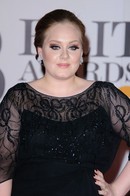 Soul singer Adele has a secret rock 'n' roll past - she often jammed with punk-loving Noisettes frontwoman Shingai Shoniwa.

The "Rolling in the Deep" hitmaker grew up in the south London area of West Norwood and became close friends with Shoniwa, who lived nearby.

The two budding musicians frequently played rock songs together - with Adele on piano and Shoniwa on drums - but Adele's career only took off when she discovered her love of R&B.

Shoniwa tells British magazine You, "We were neighbors for years in West Norwood. We lived right next door to each other on top of the Co-op (store)... Awesome days. She had a piano, I had a drum kit. We always used to jam."