Adele: 'Weight Has Nothing To Do With My Career'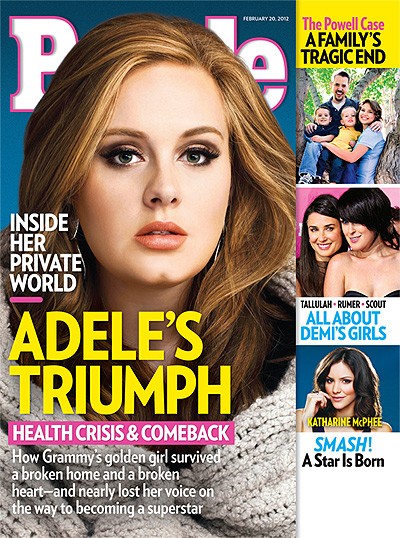 British singing sensation Adele overcame romantic heartbreak, an absentee dad, and even almost losing her voice due to a vocal cord hemorrhage. This week's issue of PEOPLE goes inside the private world of the Grammy darling's rise to the top of the music world. The 23-year-old peppers her concerts and conversations with giggles, four-letter words, and self-deprecating one-liners. "I think I'm hilarious," she says. "If I wasn't doing this, I'd try to be a comedian."

Last month, when a woman who looked and sounded like Adele slid into a restaurant booth in Boca Raton, Florida for a cozy lunch with her boyfriend, the waitstaff did double takes. "I was 90 percent sure it was her," says one waiter. "She looked beautiful and had a beautiful voice." But her down-to-earth demeanor and lack of entourage made them wonder. Asked by a server if she was, in fact, Adele, the woman laughed and said no. Then her paid bill told a different story: On it was Adele's autograph and a note saying, "It was me!"

Any remaining bit of anonymity seems sure to vanish after the Grammy Awards Feb. 12. That night, Adele Laurie Blue Adkins, who is up for six trophies, is expected to walk away with them all. In fact, last year Adele sold 6.7 million albums in the U.S. – more than Lady Gaga and Justin Bieber combined. Just as important, when she takes the Grammy stage, it will be her first public performance since a vocal cord hemorrhage and related surgery silenced her last fall. "[It's] exciting… and nerve-racking," she said in a statement, "but what a way to get back into it all."

If there were a Grammy for surviving heartbreak, Adele would win that too. Her music resonates with anyone who has ever loved and lost. Most of the wrenching lyrics on "21", nominated for Album of the Year, are about her devastation over a failed romance – "my first grown-up intense relationship," she has said. Adele often refers to her ex (whom she's never publicly named) as "the love of my life." But things fell apart after more than a year, and though he didn't cheat on her, the breakup was still crushing. "We fell out of love," she explains. "It was more devastating than actually having something to blame it on." Her agony pushed her into an emotional abyss. "I locked myself in my house for nine months drinking four bottles of wine a night," she told PEOPLE last year. "That was probably the lowest point of my life."

And yet she's willing to give love another go. The man she may write (happier) songs about in the future? Simon Konecki, 36, a fellow Brit who heads Drop4Drop, a charity that brings clean water to developing countries. (He jokes that people call him Waterboy.) The couple was first photographed during their January trip to Florida, where they visited his mother and sister, took in a Miami Heat game, visited a pet store, and turned an airboat ride into an amorous adventure. Says a witness: "They looked happy and romantic." Regarding men, she explains, "I'm like an American girl when it comes to guys. I want to marry Prince Charming."

Many also identify with the real-size woman behind the glam exterior. "I've never wanted to look like models on the covers of magazines," says the singer, who embraces her curvy figure. "I represent the majority of women, and I'm very proud of that." And Adele seems determined to resist any pressure to slim down. "I'd lose weight if I was an actress and had to play a role where you're supposed to be 40 lbs. lighter, but weight has nothing to do with my career," she says. "I haven't felt insecure about my figure. I wasn't brought up like that."

Grammy night will be her biggest stage yet, and millions will watch in rapt attention. After conquering the music world, what's next? "I really want to be a mum," says the singer, who told PEOPLE her goal was to have three sons by the age of 30. "I better start getting on with it!"


*Also In This Week's 'People'*
The Powell Case: "This Was Not A Tragedy; This Was A Horrible Murder Of Two Little Kids"
Demi's Daughters: They "Could See Their Mom Wasn't Right"
Exclusive: Ray Romano – My Wife Beat Breast Cancer
Courteney Cox On Ex David Arquette: "He's My Best Friend. We're Going To Be A Family Forever"