Adele To Sing Next 'James Bond' Theme?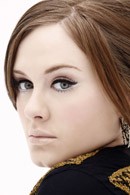 Soul superstar Adele has sent fans into a frenzy by hinting she is next in line to record a "James Bond" theme.

The London-born singer teased her big secret during an interview with U.K. TV host Jonathan Ross after he asked about her upcoming projects.

Adele mentioned the recording studio, before blurting out, "It is actually a theme, what I've got to do. Wow, that's really giving something away!"

She then covered her mouth, and Ross began humming the Bond theme tune. Adele added, "It's a concept. One song."

Adele will be in good company if she does end up on the superspy soundtrack - Jack White and Alicia Keys, Madonna, Paul McCartney and Shirley Bassey have all released "007" themes.