Adele Sweeps; Foo Fighters & Kanye West Dominate The Grammys (Full List Of Winners)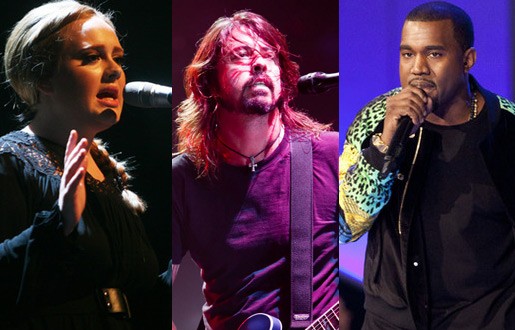 Just as predicted, British songstress Adele dominated the 2012 Grammys, from a rousing performance of her hit "Rolling In The Deep" to sweeping all six categories in which she was nominated.

She picked up the pre-ceremony awards for Best Pop Vocal Album and Best Short Form Music Video for "Rolling in the Deep", along with the awards for Record Of The Year ("Rolling in the Deep"), Album Of The Year ("21"), Song Of The Year ("Rolling in the Deep") and Best Pop Solo Performance for "Someone Like You"; but Adele wasn't the only big winner at this year's awards ceremony.

Foo Fighters, Skrillex and Kanye West were already big winners at the Grammys on Sunday night before the ceremony got underway.

Dave Grohl's rock act picked up four awards at a pre-event ceremony, including Best Rock Song for "Walk" and Best Rock Album for "Wasting Light", while West and Skrillex were triple winners.

West landed awards for Best Rap/Sung Collaboration and Best Rap Song ("All of The Lights") and Best Rap Album ("My Beautiful Dark Twisted Fantasy"), along with a co-award with Jay-Z for their single "Otis" from their collaboration "Watch The Throne.

Electronic star Skrillex picked up trophies for Best Dance Recording and Best Dance/Electronica Album ("Scary Monsters And Nice Sprites").
Bruce Springsteen & The E Street Band got what is sure to be a very emotional Grammy Awards off to rousing start in Los Angeles on Sunday night.

The Boss made no mention of the Whitney Houston tragedy that was hanging over the ceremony and raced into a ferocious rendition of new song "We Take Care of Our Own".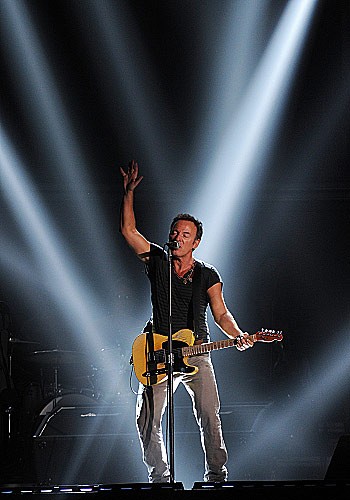 Springsteen and his bandmates were joined by a string orchestra onstage at the Staples Center as the rocker belted out the patriotic tune with an angry snarl throughout.

Introducing the song, he growled, "America, are you alive out there?"

Once the stirring performance was over, LL Cool J, the Grammys' first host in seven years, took to the stage.

He took a somber, serious tone as he addressed Houston's passing and said, "There is no way around this; we've had a death in our family, and so at least for me the only thing that feels right is to begin with a prayer for a woman who we loved, for our fallen sister Whitney Houston."

He bowed his head and stated, "Heavenly father, we thank you for sharing our sister Whitney with us. Today our thoughts are with her mother, her daughter and all of her loved ones, and although she is gone too soon we remain truly blessed to have been touched by her beautiful spirit and to have her lasting legacy of music to cherish and share forever. Amen."

The rapper/actor then introduced footage of Houston performing "I Will Always Love You" at the Grammy Awards in 1994, adding, "Whitney, we will always love you."

LL then welcomed Brits Adele and Paul McCartney, Rihanna, Katy Perry, Tony Bennett and Carrie Underwood to the Grammys and asked, "Are we all ready for music's biggest night?"

Bruno Mars then kept the party going with another rousing performance as the event's organizers and performers attempted to get past the sadness surrounding Houston's death on the eve of the Grammys.
Highlights of the night included Rihanna's pumped-up rendition of "We Found Love" and Coldplay's struggles with their song "Paradise" - before a huge day-glo backdrop. Off-key and croaky, frontman Chris Martin battled through the song, fighting the bad cold that has prompted the band to scrap upcoming Australian tour dates.

Other major performance highlights included Katy Perry's fiery first TV appearance since her December marriage split, Chris Brown, Bruno Mars, Taylor Swift and Paul McCartney, who was given a standing ovation for his performance of new romantic standard "My Valentine" from his new album "Kisses on the Bottom". McCartney also closed the show with a rocking, guitar-heavy "Abbey Road" medley of "Golden Slumbers/Carry That Weight/The End" that featured Joe Walsh, Dave Grohl and Springsteen.

The night's most bizarre performance came from Nicki Minaj as she debuted a new alter-ego, called Roman, during a strange performance art piece inspired by horror film The Exorcist. Minaj appeared to levitate as dancers dressed as monks and a man pretending to be a bishop watched on.

The 2012 Grammys will be remembered for its all-star tributes - to Etta James, 2012 Lifetime Achievement Award recipient Glen Campbell, the Beach Boys, who kicked off their 50th anniversary celebrations with a rendition of summer anthem Good Vibrations at the ceremony, and Houston, who passed away in a Los Angeles hotel on the eve of music's big night.
During the 'In Memoriam' part of the broadcast that honors the artists the recording industry loses each year Jennifer Hudson knocked out a rousing performance of "I Will Always Love You" in tribute to the late Houston, despite reports that the singer had struggled with emotions during rehearsals.
After Adele was presented with the Grammy for Album of the Year ("21") by none other than Diana Ross, Paul McCartney closed out the show with a classic performance of the Beatles' "Golden Slumbers/Carry That Weight/The End".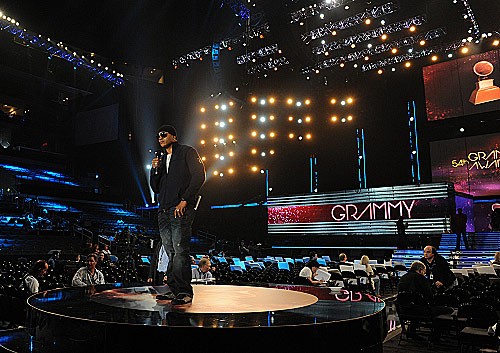 2011 Grammy Nominations & Winners (Winners underlined and in bold):
Record Of The Year
"Rolling In The Deep" - Adele
"Holocene" - Bon Iver
"Grenade" - Bruno Mars
"The Cave" - Mumford & Sons
"Firework" - Katy Perry

Album Of The Year
"21" - Adele
"Wasting Light" - Foo Fighters
"Born This Way" - Lady Gaga
"Doo-Wops & Hooligans" - Bruno Mars
"Loud" - Rihanna

Song Of The Year
"All Of The Lights" - Kanye West
"The Cave" - Mumford & Sons
"Grenade" - Bruno Mars
"Holocene" - Bon Iver
"Rolling In The Deep" - Adele

Best New Artist
The Band Perry
Bon Iver
J. Cole
Nicki Minaj
Skrillex

Best Pop Solo Performance
"Someone Like You" - Adele
"Yoü And I" - Lady Gaga
"Grenade" - Bruno Mars
"Firework" - Katy Perry
"F***in' Perfect" - Pink

Best Pop Duo/Group Performance
"Body And Soul" - Tony Bennett & Amy Winehouse
"Dearest" - The Black Keys
"Paradise" - Coldplay
"Pumped Up Kicks" - Foster The People
"Moves Like Jagger" - Maroon 5 & Christina Aguilera

Best Pop Vocal Album
"21" - Adele
"The Lady Killer" - Cee Lo Green
"Born This Way" - Lady Gaga
"Doo-Wops & Hooligans" - Bruno Mars
"Loud" - Rihanna

Best Dance Recording
"Raise Your Weapon" - Deadmau5 & Greta Svabo Bech
"Barbra Streisand" - Duck Sauce
"Sunshine" - David Guetta & Avicii
"Call Your Girlfriend" - Robyn
"Scary Monsters And Nice Sprites" - Skrillex
"Save The World" - Swedish House Mafia

Best Dance/Electronica Album
"Zonoscope" - Cut/Copy
"4x4=12" - Deadmau5
"Nothing But The Beat" - David Guetta
"Body Talk, Pt. 3" - Robyn
"Scary Monsters And Nice Sprites" - Skrillex

Best Traditional Pop Vocal Album
"Duets II" - Tony Bennett & Various Artists
"The Gift" - Susan Boyle
"In Concert On Broadway" - Harry Connick Jr.
"Music Is Better Than Words" - Seth MacFarlane
"What Matters Most" - Barbra Streisand

Best Rock Performance
"Every Teardrop Is A Waterfall" - Coldplay
"Down By The Water" - The Decemberists
"Walk" - Foo Fighters
"The Cave" - Mumford & Sons
"Lotus Flower" - Radiohead

Best Hard Rock/Metal Performance
"On The Backs Of Angels" - Dream Theater
"White Limo" - Foo Fighters
"Curl Of The Burl" - Mastodon
"Public Enemy No. 1" - Megadeth
"Blood In My Eyes" - Sum 41

Best Rock Song
"The Cave" - Mumford & Sons
"Down By The Water" - The Decemberists
"Every Teardrop Is A Waterfall" - Coldplay
"Lotus Flower" - Radiohead
"Walk" - Foo Fighters

Best Rock Album
"Rock 'N' Roll Party Honoring Les Paul" - Jeff Beck
"Wasting Light" - Foo Fighters
"Come Around Sundown" - Kings Of Leon
"I'm With You" - Red Hot Chili Peppers
"The Whole Love" - Wilco

Best Alternative Music Album
"Bon Iver" - Bon Iver
"Codes And Keys" - Death Cab For Cutie
"Torches" - Foster The People
"Circuital" - My Morning Jacket
"The King Of Limbs" - Radiohead

Best R&B Performance
"Far Away" - Marsha Ambrosius
"Pieces Of Me" - Ledisi
"Not My Daddy" - Kelly Price & Stokley
"Is This Love" - Corinne Bailey Rae
"You Are" - Charlie Wilson

Best Traditional R&B Performance
"Sometimes I Cry" - Eric Benét
"Fool For You" - Cee Lo Green & Melanie Fiona
"Radio Message" - R. Kelly
"Good Man" - Raphael Saadiq
"Surrender" - Betty Wright & The Roots

Best R&B Song
"Far Away" - Marsha Ambrosius
"Fool For You" - Cee Lo Green & Melanie Fiona
"Not My Daddy" - Kelly Price & Stokley
"Pieces Of Me" - Ledisi
"You Are" - Charlie Wilson

Best R&B Album
"F.A.M.E." - Chris Brown
"Second Chance" - El DeBarge
"Love Letter" - R. Kelly
"Pieces Of Me" - Ledisi
"Kelly" - Kelly Price

Best Rap Performance
"Look At Me Now" - Chris Brown, Lil Wayne & Busta Rhymes
"Otis" - Jay-Z & Kanye West
"The Show Goes On" - Lupe Fiasco
"Moment 4 Life" - Nicki Minaj & Drake
"Black And Yellow" - Wiz Khalifa

Best Rap/Sung Collaboration
"Party" - Beyoncé & André 3000
"I'm On One" - DJ Khaled, Drake, Rick Ross & Lil Wayne
"I Need A Doctor" - Dr. Dre, Eminem & Skylar Grey
"What's My Name?" - Rihanna & Drake
"Motivation" - Kelly Rowland & Lil Wayne
"All Of The Lights" - Kanye West, Rihanna, Kid Cudi & Fergie

Best Rap Song
"All Of The Lights" - Kanye West, Rihanna, Kid Cudi & Fergie
"Black And Yellow" - Wiz Khalifa
"I Need A Doctor" - Dr. Dre, Eminem & Skylar Grey
"Look At Me Now" - Chris Brown, Lil Wayne & Busta Rhymes
"Otis" - Jay-Z & Kanye West
"The Show Goes On" - Lupe Fiasco

Best Rap Album
"Watch The Throne" - Jay-Z & Kanye West
"Tha Carter IV" - Lil Wayne
"Lasers" - Lupe Fiasco
"Pink Friday" - Nicki Minaj
"My Beautiful Dark Twisted Fantasy" - Kanye West

Best Country Solo Performance
"Dirt Road Anthem" - Jason Aldean
"I'm Gonna Love You Through It" - Martina McBride
"Honey Bee" - Blake Shelton
"Mean" - Taylor Swift
"Mama's Song" - Carrie Underwood

Best Country Duo/Group Performance
"Don't You Wanna Stay" - Jason Aldean With Kelly Clarkson
"You And Tequila" - Kenny Chesney Featuring Grace Potter
"Barton Hollow" - The Civil Wars
"Are You Gonna Kiss Me Or Not" - Thompson Square

Best Country Song
"Are You Gonna Kiss Me Or Not" - Thompson Square
"God Gave Me You" - Blake Shelton
"Just Fishin'" - Trace Adkins
"Mean" - Taylor Swift
"Threaten Me With Heaven" - Vince Gill
"You And Tequila" - Kenny Chesney Featuring Grace Potter

Best Country Album
"My Kinda Party" - Jason Aldean
"Chief" - Eric Church
"Own The Night" - Lady Antebellum
"Red River Blue" - Blake Shelton
"Here For A Good Time" - George Strait
"Speak Now" - Taylor Swift

Best Latin Pop, Rock, Or Urban Album
"Entren Los Que Quieran" - Calle 13
"Entre La Ciudad Y El Mar" - Gustavo Galindo
"Nuestra" - La Vida Bohème
"Not So Commercial" - Los Amigos Invisibles
"Drama Y Luz" - Maná

Best Bluegrass Album
"Paper Airplane" - Alison Krauss & Union Station
"Reason And Rhyme: Bluegrass Songs By Robert Hunter & Jim Lauderdale" - Jim Lauderdale
"Rare Bird Alert" - Steve Martin And The Steep Canyon Rangers
"Old Memories: The Songs Of Bill Monroe" - The Del McCoury Band
"A Mother's Prayer" - Ralph Stanley
"Sleep With One Eye Open" - Chris Thile & Michael Daves

Best Blues Album
"Low Country Blues" - Gregg Allman
"Roadside Attractions" - Marcia Ball
"Man In Motion" - Warren Haynes
"The Reflection" - Keb Mo
"Revelator" - Tedeschi Trucks Band

Best Folk Album
"Barton Hollow" - The Civil Wars
"I'll Never Get Out Of This World Alive" - Steve Earle
"Helplessness Blues" - Fleet Foxes
"Ukulele Songs" - Eddie Vedder
"The Harrow & The Harvest" - Gillian Welch

Best Comedy Album
"Alpocalypse" - "Weird Al" Yankovic
"Finest Hour" - Patton Oswalt
"Hilarious" - Louis C.K.
"Kathy Griffin: 50 & Not Pregnant" - Kathy Griffin
"Turtleneck & Chain" - The Lonely Island

Best Short Form Music Video
"Rolling In The Deep" - Adele
"Yes I Know" - Memory Tapes
"All Is Not Lost" - OK Go
"Lotus Flower" - Radiohead
"First Of The Year (Equinox)" - Skrillex
"Perform This Way" - "Weird Al" Yankovic

Best Long Form Music Video
"I Am...World Tour" - Beyoncé
"Foo Fighters: Back And Forth" - Foo Fighters
"Talihina Sky: The Story Of Kings Of Leon" - Kings Of Leon
"Beats, Rhymes & Life: The Travels Of A Tribe Called Quest" - A Tribe Called Quest
"Nine Types Of Light" - TV On The Radio