Adele, Kate Middleton & Rihanna Among Those On Time's '100 Most Influential People In The World' List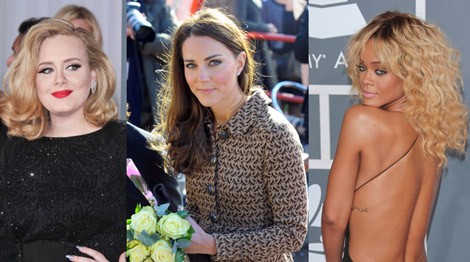 Time magazine just released its annual list of the 100 Most Influential People who "inspire us, entertain us, challenge us and change our world."
British soul singer Adele made it onto the prestigious Time 100 list. U.K. royal Kate Middleton, a.k.a. Catherine, Duchess of Cambridge, is also a new name in the lineup following her wedding to Prince William last year. Her sister Pippa Middleton, who was recently embroiled in a gun/paparazzi controversy, surprisingly made the cut.
 
Bajan popstar Rihanna, movie executive Harvey Weinstein and President Barack Obama are also included on the 2012 list. Actresses recognized by the magazine include Viola Davis, Jessica Chastain, Tilda Swinton and Claire Danes. TV personalities Matt Lauer, Stephen Colbert and Chelsea Handler are also included.
2012 TIME 100:

    Jeremy Lin
    Christian Marclay
    Viola Davis
    Salman Khan
   

Tim Tebow
    E.L. James
    Louis CK
    Rihanna
    Marco Rubio
    Ali Ferzat
    René Redzepi
    Kristen Wiig
    Anthony Kennedy
    Novak Djokovic
    Ben Rattray
    Jessica Chastain
    Yani Tseng
    Raphael Saadiq
    Elinor Ostrom
    Samira Ibrahim
    José Andrés
   

Ann Patchett
    Dulce Matuz
    Henrik Schärfe
    Freeman Hrabowski
    Maryam Durani
    Manal al-Sharif
    Anjali Gopalan
    Rached Ghannouchi
    Barbara Van Dahlen
    Ron Fouchier
    Donald Sadoway
    Hans Rosling
    Asghar Farhadi
    Sarah Burton
    Anonymous
    Pete Cashmore
    Cami Anderson
    Ali Babacan and Ahmet Davutoglu
    Ai-jen Poo
    Marc Andreessen
    Preet Bharara
    Robert Grant
   

Andrew Lo
    Sharmeen Obaid-Chinoy
    Alexei Navalny
    Ray Dalio
    Hamad bin Jassim bin Jaber al-Thani
    Chelsea Handler
    Harvey Weinstein
    Chen Lihua
    Warren Buffett
    Alice Walton
    Harold Hamm
    Sheryl Sandberg
    Sara Blakely
    Eike Batista
    Tim Cook
    Daniel Ek
    Virginia Rometty
    Barack Obama
    Goodluck Jonathan
    Xi Jinping
   

Fatou Bensouda
    Christine Lagarde
    Mario Draghi
    U Thein Sein
    Ayatullah Ali Khamenei
    Mitt Romney
    Juan Manuel Santos
    Timothy Dolan
    Portia Simpson Miller
    Mario Monti
    Wang Yang
    Maria das Graças Silva Foster
    Andrew Cuomo
    Iftikhar Chaudhry
    Mamata Banerjee
    Walter Isaacson
    Ron Paul
    Benjamin Netanyahu
    Dilma Rousseff
    Erik Martin
   

Cecile Richards
    Angela Merkel
    Lionel Messi
    Tilda Swinton
    Hillary Clinton
    Catherine, Duchess of Cambridge, and Pippa Middleton
    Adele
    Matt Lauer
    Oscar Pistorius
    Claire Danes
    Stephen Colbert

Rogues

    Kim Jong Un
    Mullah Mohammed Omar and Sheik Moktar Ali Zubeyr
    Bashar Assad