Adam Sandler's Star Power Prompts Movie Studio To Cut Down Palm Tree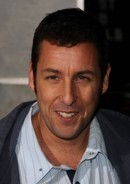 Funnyman Adam Sandler learned how powerful he is in Hollywood when his comical complaints about a palm tree blocking a poster for his new film prompted studio bosses to chop it down.

The Happy Gilmore star was driving through the city when he spotted the tree partly obscuring a billboard advertising Jack & Jill, which features Sandler in character as male and female twins.

He explains, "There was a palm tree with the leaves going across on the girl character and it looked like a mustache and it was right near Sony (studio's headquarters).

"I told them... they had a mustache on me with a palm tree and the next day they cut the tree down. I was like, 'What the hell did you do that for?'"